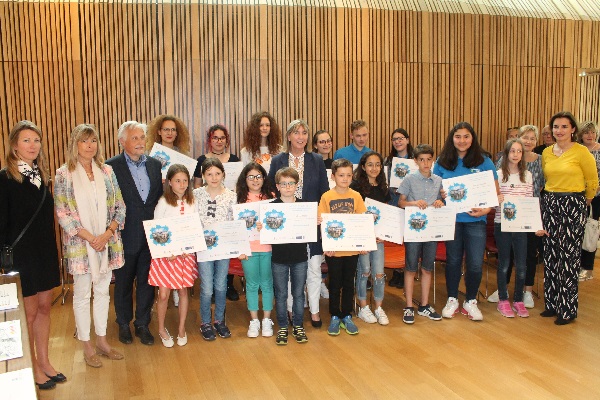 Catherine Decker, Luxembourg Commission for UNESCO Co-operation, Arlette Lommel, National Coordinator of UNESCO Associated Schools, Robert Philippart, UNESCO site manager, contest winners, Mayor Lydie Polfer, Christiane Sietzen and Claudine Konsbruck, VdL; Credit: MCULT
On Friday, the mayor of the City of Luxembourg, Lydie Polfer, and UNESCO site manager Robert L. Philippart presented prizes to the sixteen young winners of the UNESCO drawing contest.
Organised between January and April 2019 in the network of UNESCO Associated Schools (résEAU), the drawing contest called on children and young people to represent the world heritage site "Luxembourg, old neighbourhoods and fortifications". To prepare for the competition, Luxembourg's eleven UNESCO schools visited the UNESCO Promenade or used one of the five World Heritage Education Kits to learn more about the capital's historic urban landscape.
240 pupils in primary education and 195 students in secondary education participated in the competition. A total of 435 drawings, watercolours, digital works, oil paintings and collages depicted, sometimes with humor, the characteristic places that define the Luxembourg World Heritage Site. The jury, made up of representatives of the Ministry of Culture, the City of Luxembourg, the Luxembourg Commission for Cooperation with UNESCO and the artistic scene, selected twelve winners (three per educational cycle). Given the quality of the work submitted, the jury decided to offer an additional special mention for each educational cycle.
Lydie Polfer and Robert L. Philippart awarded the winners the prizes offered by the Luxembourg City Tourist Office (LCTO), the Frënn vun der Festungsgeschicht Lëtzebuerg, the Luxembourg Commission for Co-operation with UNESCO and the City of Luxembourg. Prizes included vouchers for special visits to Luxembourg City and the fortress, as well as a cash prize for first place in the upper cycle.
After the award ceremony, the authorities inaugurated the exhibition on Place Guillaume II displaying the sixteen winning works. These will be available for viewing until 23 August 2019. During this same period, the students of the Athénée de Luxembourg will exhibit their works in their secondary school.

Winners
Cycle 3: 1st prize to Lisa Fohr; 2nd prize to Ninon Haltern; 3rd prize to Alessia Marques Té; special mention for Till Barthels
Cycle 4: 1st prize to Alex Back; 2nd prize to Silvio Texeira David; 3rd prize to Narges Yacoubi; special mention for Lucie Gaudeau
Lower-secondary education: 1st prize to Beatriz Pereira de Magalhaes; 2nd prize to Ben Deckenbrunner; 3rd prize to Luana Cardoso; special mention for Irem Tali
Upper-secondary education: 1st prize to Max Heirens; 2nd prize to Sherley De Deurwaerder; 3rd prize to Ophélie Lentz; special mention for Stéphanie Papadopoulos.