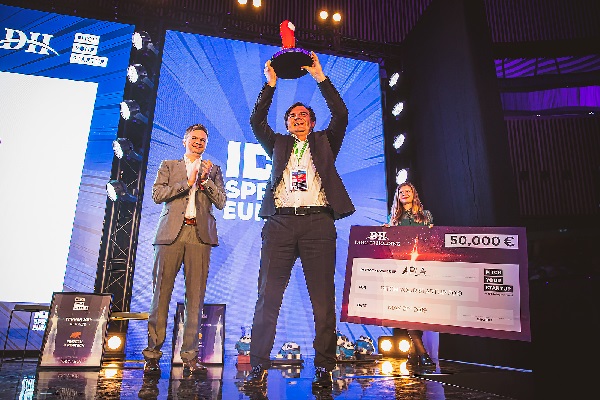 The fifth edition of Pitch Your StartUp took place on Tuesday 21 May 2019 at the ICT Spring at the European Convention Center in Luxembourg-Kirchberg.
The international pitch competition for active startups in the ICT field received more than 350 applications in four tech verticals, as well as a Luxembourg local vertical.
Pitch Your Startup, launched by Docler Holding in partnership with Luxinnovation five years ago, offers a springboard for innovative solutions in Fin- and Regtech, AI/Machine Learning & Big Data, Smart Living and Cyber Security. This year, for the first time, four verticals gave away €20,000 in free capital each to the following winners: Apla, Eaglys, Loro and Passbolt.
In the "best overall" category, Docler Holding awarded Luxembourg-based startup Apla, a blockchain solution for heavy-load data management procedures such as land registries, supply chain management systems and contract management systems, the €50,000 cash prize. Represented by Vitaly Bondar, its CEO, during a pitch lasting three minutes and 33 seconds, Apla will be able to focus on its international development with this money.
Vitaly Bondar commented: "The first programme using our technology will be launched at the end of the month. It is a platform for managing corporate governance services in communication with a company and its shareholders. We will dedicate our prize to the continuation of our research and development activities".
Marton Fülöp, CIO at Docler Holding, added: "We consider thorough technological solutions the cornerstone of competitive and durable companies. Apla's blockchain solution demonstrates a novel approach to their industry, and its team reassures us of their continued passion in bringing the solution to mass market".