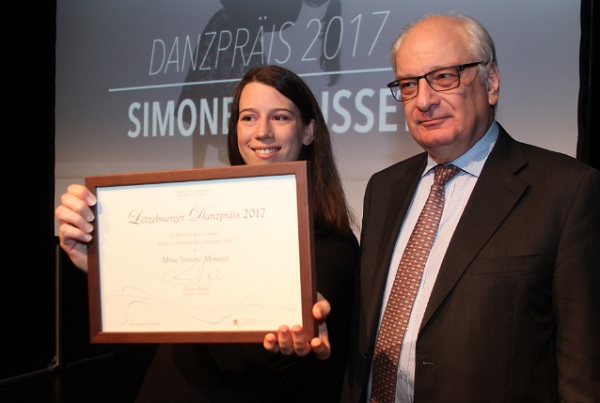 2017 Winner of the Lëtzebuerger Danzpräis Simone Mousset, dancer and choreographer, pictured with Guy Arendt, Secretary of State for Culture; Credit: MCULT
The Ministry of Culture has launched a call for applications for the fifth edition of the "Lëtzebuerger Danzpräis", the biennial prize for young Luxembourg dancers.
The Lëtzebuerger Danzpräis, which takes place every two years, is worth €5,000 and aims to encourage the contemporary choreographic creation or the artistic merit of a young dancer in the Grand Duchy. The award recognises a dancer or choreographer who has distinguished himself or herself in the field and can already claim international attention for at least one performance. The artist's involvement in the development of the choreographic scene in Luxembourg is considered an advantage.
Professional dancers or choreographers of Luxembourg nationality or residing in the Grand Duchy of Luxembourg up to the age of 35 are eligible to apply.
The selection jury is made up of Christiane Eiffes, Vice-President of the Luxembourgish choreographic centre TROIS CL, Natascha Ipatova from DanceXperience a.s.b.l., Tom Leick-Burns, Director of Théâtres de la Ville de Luxembourg, Simone Mousset, winner of the Lëtzebuerger Danzpräis 2017, and the journalist Marie-Laure Rolland.
Dancers or choreographers who wish to submit an application should do so by Sunday 12 May 2019 (before midnight) via email: appel.danse@mc.etat.lu
The application must include a signed CV detailing the career path and the key stages of the candidate's professional career. Any other document (press kit, video links, illustrations, photos) relating to the candidate's professional activities may be added to the application.