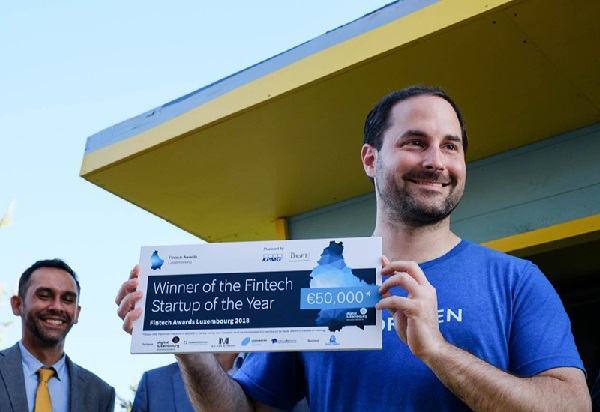 Michael Kane from Hydrogen, first prize winner of 2018; Credit: KPMG Luxembourg
The fourth edition of the Fintech Awards Luxembourg has officially opened its applications until the 30 April 2019.
Rising stars from the Fintech startup universe are invited to apply for several prizes and the chance to build their networks and credibility with senior decision-makers and CEOs from the Luxembourg financial services community. This represents real and tangible opportunities for them to acquire new clients for their solutions and businesses.
Applications for the Awards opened on 15 March and will close on 1 May. Competition Day will take place on 19 June 2019, when the finalists will compete to be Fintech Startup of the Year. Prizes will also go to the first and second runners-up.
The startups will be competing for prizes designed to help them grow and develop their company in Luxembourg. Prizes include €50,000, free LHoFT membership including three months of hosting, ten free consulting hours from KPMG and an advertisement in a Maison Moderne publication.
Michael Kane from Hydrogen, first prize winner in 2018, commented: "3.0 technology will be global, open, and interconnected. The Fintech Awards has given us a concrete foothold in Luxembourg—thanks to that, we can get to work bringing 3.0 technology from this important financial center to millions of people in Europe and globally, helping them be more financially free."
The Awards are organised by the LHoFT and KPMG Luxembourg, in collaboration with Digital Lëtzebuerg, the Luxembourg ICT Cluster, LuxInnovation and Maison Moderne.
To apply for the Awards visit www.fintechawards.lu.