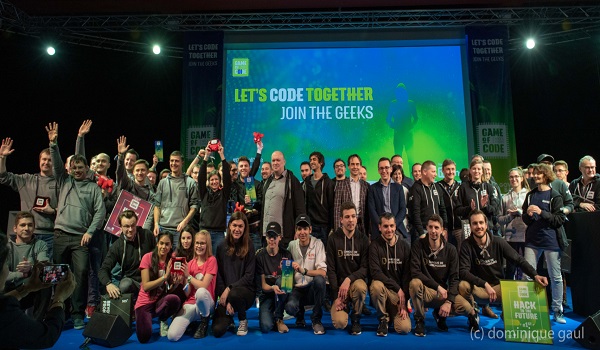 Game of Code 2019 Winners; Credit: Dominique Gaul
The fourth edition of Game of Code, held on 8 and 9 March 2019 at the Forum Geesseknäpchen, attracted the participation of some 140 coders and 34 teams.
The 24-hour hackathon presented the participants with unique challenges created by the event's partners, Docler Holding, Digital Luxembourg and the National Library of Luxembourg, GovSat and SES.
Before launching the competition, the organisers welcomed Marc Hansen, Minister Delegate for Digitalisation, who highlighted the importance of ICT in a context of digital transformation and also welcomed the Game of Code initiative, created by Farvest Group and its partners.
Then came the announcement of this year's winners. This year, Docler Holding offered participants the opportunity to create their own video game in just 24 hours. The Virtual Rangers team was rewarded for its unique creativity and the overall result of its game "Escape the Pyramid". The game, which consisted in several enigmas with an educational reach, was acclaimed by the jury members. The "Guardians" team, composed of Docler Holding developers, and CoderDojoGirls, from the Code Club Coder Dojo, won the second and third prizes. The latter also won the "Coup de Coeur" of the jury, in order to encourage future generations to embrace the digital.
The challenge invented by Digital Luxembourg and the National Library of Luxembourg was all about developing new tools or applications destined to the exploration, comprehension, analysis or enrichment of historical facts, using raw data available on the open-data platform. The Error402 team, from the Banque de Luxembourg, won this challenge. The teams SAD Games (Docler Holding) and LUCA (ARHS Cube) completed the podium, while Saperlipopette (PwC Luxembourg) was named "Coup de Coeur".
Space was also addressed during this 4th edition, with two challenges created by two new sponsors: GovSat and SES. BIL DEV TEAM (Banque Internationale à Luxembourg) won the challenge #DoYouCode #GetSpaced, created by SES. Two teams originating from the satellite and telecommunications service provider, Bit Flippers and Don't mess with the Spectrum, shared the second place, and LTS Alpha, from the Luxembourg Tech School, won the third place. Finally, HOPTEAM, with its members working at InTech, won the challenge prepared by GovSat.