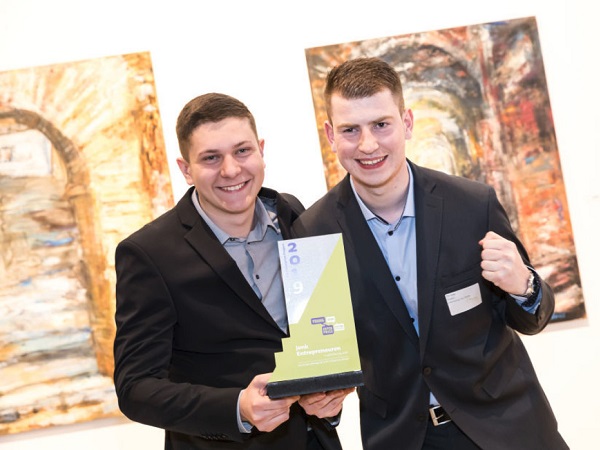 Luxembourg. The People.; Credit: Jonk Entrepreneuren Luxembourg
The first prize of this year's "Young Enterprise Project" (YEP) went to "Luxembourg. The People.", a team of two students from Lycée technique d'Ettelbruck.
The YEP 2019, organised in partnership with the Banque Internationale à Luxembourg, the House of Startups and the nyuko association, took place yesterday. The 8th edition of this programme, created by Jonk Entrepreneuren Luxembourg in 2012, saw the participation of 19 teams coming from Lycée technique d'Ettelbruck, Ecole de Commerce et de Gestion and Lycée des Arts et Métiers. The jury then selected a total of eight teams for the national finals, which attracted over 100 people to the BIL premises.
The winning project was "Luxembourg. The People.", which saw two students from Lycée technique d'Ettelbruck, Tim Krier and Tom Roller, create an internet platform to present people who are active in specific areas such as culture, music, sport, politics, volunteering or education. Their goal was to put the individual at the centre and to present their work and ambitions. The team, coached by BIL's Stéphanie Camporesi, won the opportunity to follow a support programme dedicated to entrepreneurs, sponsored by the nyuko association.
The second place went to the "Alya" team which consisted of students from the Ecole de Commerce et de Gestion. Catherine Hilger, Lisa Martins, Olivia Raffaeli and Lisa Zhang, coached by Hels1nk1 manager Anne Alastalo, wanted to reduce environmental pollution by tackling the problem of "fast" fashion. The team offered a brand of recycled clothing with the desire to educate people who buy a lot of clothes. Their prize will be Outperform teambuilding activities.

The "Bread" team, also from Lycée technique d'Ettelbruck, won third prize. The idea of students ​​Angie Reding, Eduarda Silva, Jo-Anne Fabritus, Kelly da Silva and Linda Gerekens, under the guidance of Namur Communications Officer Marianne Nickels, was to fight food waste by focusing on one specific food: bread. Their aim was to recover the unsold baked goods to resell them the next day in a special "foodtruck". The students will be able to attend the big technological event ICT Spring and the Morpheus Cup as part of their prize. Farvest sponsored this award. The "Bread" team similarly won the new "Upgrade" award, presented for the first time by Rotary International. This award will allow the team to meet the start-up "Succy" and to take a critical look at the association. The students will also benefit from the expertise of Antoine Hubert, executive director of Succy who will analyse their project.
Determining the winners of this edition was no easy feat, especially since each team had just four minutes to summarise months of work and impress the jury. The members of the jury were Thibaut Ciccone (Nyuko), Marc Hoffmann (Cactus), Marc Feider (Allen & Overy), Dominique Moeremans (ECG Professor), Frank Hollerich (BIL), Diego de Biasio (Technoport), Vittorio Siciliano (Professor at LGK) and Nico Grethen (BIL).