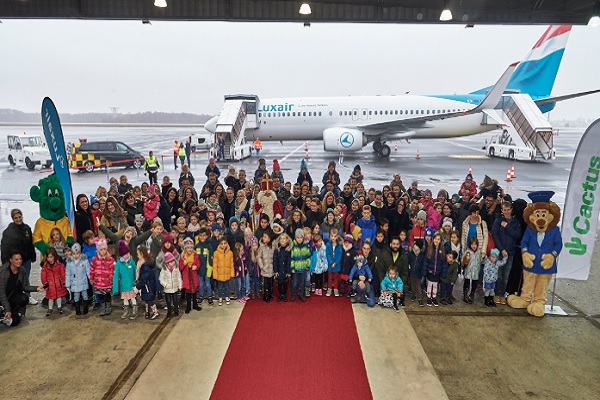 On Sunday 2 December, Cactus and Luxair flew 93 children to meet Saint Nicholas following their annual drawing competition.
60 children selected from the Saint Nicholas drawing contest and a further 30 children selected by Luxair Luxembourg Airlines, RTL and Lux-Airport, flew to meet the "Kleeschen" this past Sunday. The morning began with Yuppi and LUXi welcoming the visibily excited children at the Luxembourg terminal.
Once in the air, the children had to sing the traditional "Leiwe Kleeschen" song before the pilots spotted Saint Nicholas in the clouds on his sleigh. Moments later, he made an appearance on the plane and greeted all the children, thanking them for their beautiful drawings.
Upon landing, Saint Nicholas gave each of them a nice gift before the little ones departed, with both their special present and precious memories.
The chosen children had previously submitted their drawings to their Cactus supermarket Cactus, before the lucky ones were chosen from the draw.