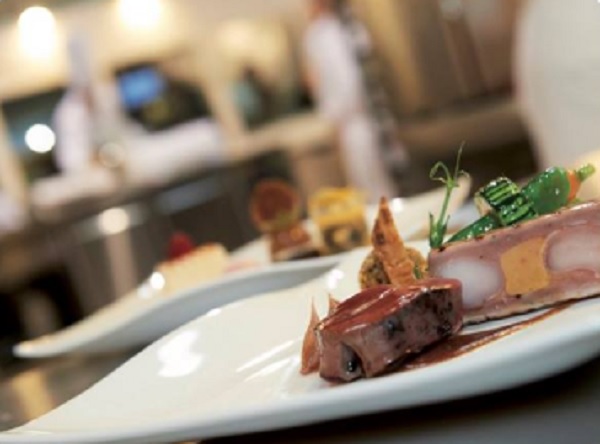 The Sweden team has been announced as National Team winner in this year's Expogast 2018 and its Villeroy & Boch Culinary World Cup, which closed yesterday at Luxepo The Box.
The closing ceremony, held yesterday Thursday 29 November in the presence of His Royal Highness Grand Duke Henri, marked the end of five days of culinary creations. Starting on 24 November, Expogast brought together the world of gastronomy in order to honour the culinary art.
An enthusiastic audience gathered at Luxexpo The Box to admire real works of art created by chefs from all over the world, to taste the creations of the national, junior and "Community Catering" teams, and to meet all the partners of Expogast and the Villeroy & Boch Culinary World Cup. This year's edition attracted an impressive 45,000 visits.
The closing ceremony ended with the presentation of the Villeroy and Boch Culinary World Cup to the best national team: Sweden. The award was jointly presented by His Royal Highness Grand Duke Henri and Michel von Boch, President of the Villeroy & Boch Family Council. The national teams category featured four gold, 10 silver and 10 bronze medals as well as three diplomas. Closely behind Sweden (94,608 points) were Singapore (93,739 points), Norway (91,853 points) and Switzerland (90,434 points).
The youth national teams category saw the distribution of five gold, seven silver and three bronze medals, with the Austrian team coming first with 95,075 points followed by Switzerland (93,845 points), Norway (93,785 points), Sweden (93,485 points) and Denmark (91,900 points). The catering awards (four gold, six silver and four bronze medals and one diploma) went to the Fazer Culinary Team Sweden, Fazer Culinary Team Finland, Catering Team of Denmark and Swiss National Catering Team Luzerner Kantonsspital. Meanwhile, the regional teams category (three gold, 15 silver, 14 bronze medals and 4 diplomas) saw the Stockholm Culinary Team win followed by Cercle des chefs cuisine Lucerne and Combined Services Culinary Arts Team UK.
The national show piece (three gold medals) was awarded to Switzerland, Hong Kong and Cyprus, whilst the award for carving fruit and vegetables went to Quan Hong Hong (Taiwan), Ming Tsun Ke (Taiwan) and Dominique Menager (France). The winners of the live carving award were Vojtech Petržela (Czech Republic), Jose Carlos Perez Lecona (Mexico) and Somlux Ouklai (Germany).
The culinary art individual prize went to Jaeho Seo (South Korea), Marvin Herrera (USA) and Jong On Baek (South Korea), whilst the culinary artistic prize was awarded to Sunith Wijedasa (United Arab Emirates), Marco Zugliano (Italy) and Rohitha Kasthuriarachchi (U.A. Emirates), Meanwhile, the winners of the pastry art individual were Achira Kularathne (United Arab Emirates), Eranda Sampath (United Arab Emirates) and Benjamin Sellemond (Italy), and winners of the artistic pastry award (four gold with distinction, 64 gold medals) were Angelica Chwyc (Poland), Metin Tasci (Turkey), Rohitha Kasthuriarachchi (U.A. Emirates) and Nalin Jagoda (United Arab Emirates).