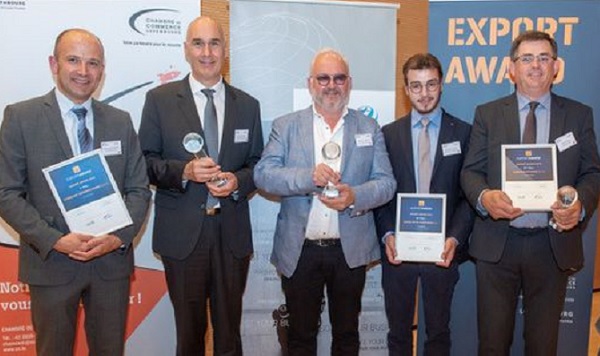 (L-R): LUXSCAN TECHNOLOGIES SARL, First Prize; WOOD OPTIC DIFFUSION SA, Second Prize; LUXPROTOTYPING SARL, Third Prize;
$The Export Awards 2018 were held on Wednesday 13 June 2018 at the Chambre de Commerce in Luxembourg-Kirchberg in the presence of His Royal Highness the Hereditary Grand Duke, Luxwmbourg's Deputy Prime Minister and Minister of Economy, Etienne Schneider, the Minister of Finance, Pierre Gramegna, the President of the Chamber of Commerce, Michel Wurth, and Arsène Jacoby, President of the ODL and President of the jury.
The Export Award is an award created in 2011 by the Office du Ducroire and the Chamber of Commerce of the Grand Duchy of Luxembourg to reward Luxembourg SMEs that have distinguished themselves by their initiatives and results in the internationalisation of their activities.
The prize, which is aimed at SMEs across all economic sectors, is set in the context of the actions that the two entities carry out in terms of SME support policy. For this 2018 edition, a total of 21 Luxembourg companies submitted applications.
1st Prize was awarded to LUXSCAN TECHNOLOGIES SARL - www.luxscan.com
2nd Prize: WOOD OPTIC DIFFUSION SA - www.gold-and-wood.com
3rd Prize: LUXPROTOTYPING SARL - www.luxprototyping.com