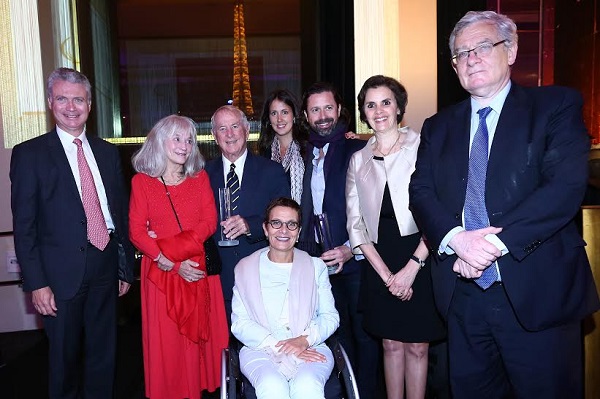 An independent jury has selected Edward W. Scott, Jr and Yann Borgstedt as the winners of the 9th BNP Paribas Prize for Individual Philanthropy.
From among the various candidates shortlisted, Mr. W. Scott Jr. and Mr. Borgstedt were selected based on the social impact of their respective philanthropic initatives, the personal and financial commitment they showed to them, as well as the professionalism, viability and transparency of their projects.
The jury was made up of leading figures from a variety of fields and was chaired this year by Amina Slaoui, BNP Paribas' first-ever Special Prize winner from 2008. She is now President of the charity AMH, which she founded to champion the social integration of vulnerable people and people with disabilities in Morocco. She is also on the board of Groupe SOS.
The Grand Prize 2016, awarded to an individual (or a family) who has invested considerable funds in their projects and demonstrated true personal commitment, was presented to Edward W. Scott, Jr. of the USA.
After working his was up the United States government civil service to become Assistance Secretary of Transportation for Administration, Ed Scott left Washington, DC to join the emerging field of computer technology. He helped found software company BEA Systems in 1995, which went on to become one of the fastest companies ever to reach $1 billion in sales and was later purchased by Oracle in 2008. Ed also acted as a primary funder behind StubHub, the online ticketing service that was purchased by eBay.
Although he started out with small-scale philanthropy, he later created the Center for Global Development to carry out research into answers to his interest in how governments could help make an impact on development by contributing policies to the fight against poverty and disease. He created Friends of the Global Fight against AIDS, Tuberculosis, and Malaria as a means of campaigning for financing of the Global Fund. He joined Bill Gates and George Soros in creating Debt, AIDS, Trade, Africa (DATA) to provide a platform for celebrities to encourage the U.S. Government and public to support development efforts. He has been called Silicon Valley's most effective giver, developing his philanthropy in other realms such as founding the Scott Center for Autism Treatment at the Florida Institute of Technology.
The Jury's Special Prize meanwhile highlights a committed philanthropist who has initiated and worked on the ground with an innovative project, which must have been running for a minimum of three years and is either in the early stages of development or at a critical stage in terms of growth. This is significant in that the winner, which this year is Yann Borgstedt of Switzerland, received the sum of €50,000 to help further the project.
Yan Borgstadt is the founder and president of the Womanity Foundation, which operates all over the world aiming to create lasting and positive change for women and girls. Such examples include providing quality teaching to more than 33,000 girls in Afghanistan, and giving women a voice through various media projects throughout the Middle East and North Africa, including Palestine-based Radio Nisaa, which represents the first commercial radio station run solely by women.
The foundation also helps social entrepreneurs in their endeavours towards women's empowerment in Brazil and in India, particularly Brazilian organisation Rede Asta, which links dozens of fair trade and artisanal cooperatives, giving them access to a global market. Womanity also collaborates with organisations working to prevent violence against women, through the Womanity Award which encourages replication of efficient solutions in new contexts.
Photo by BNP Paribas Wealth Management (L-R): Vincent Lecomte, CO-CEO of BNP Paribas Wealth Management; Edward W. Scott, Jr., USA (With His wife) - Grand Prix in 2016; Yann Borgstedt, Switzerland (With His wife) - Special Jury Prize 2016; Sofia Merlo, Co-CEO of BNP Paribas Wealth Management; Jean Lemierre, President of the Board of Directors of BNP Paribas. At the centere of the photo, seated: Amina Slaoui, Chairman of the Jury