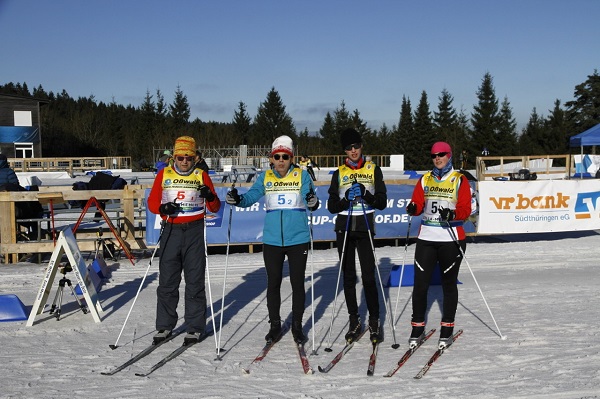 Poli Della Schiava, Romain Reuter, Pit Frank and Silvia Splicks; Credit: Special Olympics Luxembourg
Special Olympics Luxembourg recently sent delegations to compete in cross-country skiing in Oberhof in Germany and in snowshoe racing in Villars in Switzerland.
In Oberhof, Special Olympics Luxembourg athletes Lynn Streitz (500 metres, 1 kilometre) and Poli Della Schiava (500 metres) brought home gold. Similarly, Silvia Splicks secured double silver in skating in the 2.5 and 5 kilometre races and Pit Frank made it onto the second podium in the 500 metres. For her part, Béa Cannels won two bronze medals (500 metres and 1 kilometre), whilst Romain Reuter took third place in the 500 metres. For the first time, a Luxembourg relay team won bronze in the 4x1 km.
The second delegation participated in snowshoeing at the Swiss National Games in Villars. Eloi Wagner won silver both in the 50 metres and 100 metres, whilst Nora Urbing won bronze in these events. Laurent Rosseljong achieved third place in the 800 metre race. Together with Ronny Kontz, this trio won the gold medal in the relay over 4x100 meters.