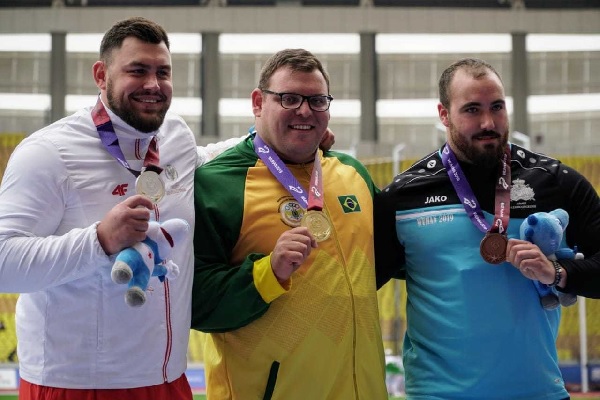 Shot put medal winners (L-R) Konrad Bukowiecki (Poland), Darlan Romani (Brasil) and Bob Bertemes (Luxembourg) at the 7th Military World Games; Credit: EMA
Luxembourgish athlete Bob Bertemes has won the bronze medal in the shot put competition at this year's Military World Games, taking place from 18-27 October in Wuhan, China.
With a throw of 20.66 metres, Bob Bertemes, Premier Soldat-Chef in the Luxembourg Army's Elite Sports Section, secured bronze in the shot put competition of the 7th Military World Games, organised by the International Military Sports Council (CISM) in Wuhan, the capital of central China's Hubei province.
The 26-year-old's recent success has brought home Luxembourg's second medal at the Military World Games, which was held for the first time in 1995 in Rome. Bob Bertemes previously won the silver medal at the Games in 2015 in South Korea.
In the equestrian competition, fellow Luxembourgish athlete and Premier Soldat, Marcel Ewen, narrowly missed the podium, finishing in fourth place among 56 participants.
Luxembourg's Minister of Sport, Dan Kersch, congratulated both Bob Bertemes and Marcel Ewen for their performances at this year's Games. He also congratulated Luxembourgish swimmer Julien Henx on having placed 5th in the 50m butterfly event.
Focusing particularly on the acquirement of Luxembourg's first medal this year, Minister Kersch stated: "This bronze medal wraps up an exceptional season for you, Bob [Bertemes], and at the same time is a great reward for all the efforts that have been made for many years. Amongst tough competition, you have just demonstrated that your place among the world's elite is now acquired and more than deserved, [...] a strong encouragement for future [occasions]!"