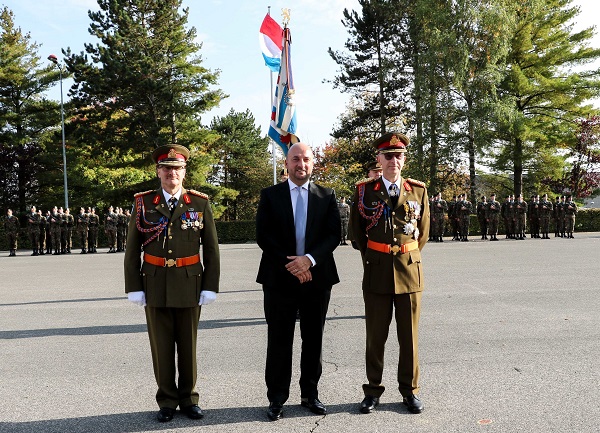 (L-R): General Alain Duschène, Chief of Staff of the Luxembourg Army; Étienne Schneider, Deputy Prime Minister, Ministof of Defense; General Romain Mancinelli; Credit: EMA
On Friday 29 September 2017, the ceremony of the handover of Chief of Staff between General Romain Mancinelli and General Alain Duschène took place at the military centre in Diekirch.
In the presence of Luxemourg's Deputy Prime Minister and Minister of Defense, Étienne Schneider, and Secretary of State for Defense, Francine Closener, General Alain Duschène was appointed Chief of Staff of the Army to succeed General Romain Mancinelli, who has retired on pension; General Mancinelli had taken over from General Mario Daubenfeld on 2 December 2014.
At the ceremony, Minister Schneider said: "As Chief of Staff of the Army, General Mancinelli completed the restructuring project which began in 2007 and which was concluded with the adoption of a new organisational structure in September 2016. General Duschène will be able to draw on this considerable work already accomplished and on his long military experience to implement the new structure and to continue the modernisation of the army."
General Alain Duschène joined the army as a volunteer soldier in 1978. He then graduated from the Royal Military Academy in Brussels and received a "Bachelor's degree in Social and Military Sciences" . From March to August 1993, he assumed command of the 3rd Luxembourg detachment of UNPROFOR in the former Yugoslavia. From 1995 to 1998 he was seconded to the European Corps in Strasbourg as the national representative of Luxembourg. After serving as Personnel Officer and Public Relations Officer for several years, he was appointed Deputy Chief of Staff of the Army in March 2008.
Colonel Patrick Grisius was appointed to the post of Deputy Chief of Staff.