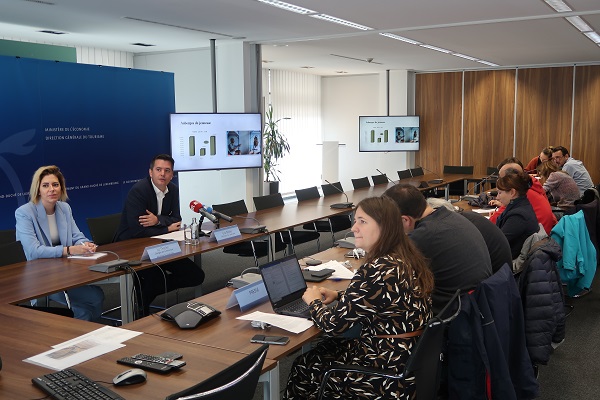 L-R: Liz Thielen, Head of General Directorate for Tourism; Lex Delles, Luxembourg's Minister for Tourism; Credit: MECO
On Monday 3 October 2022, Luxembourg's Minister for Tourism, Lex Delles, presented the results of the 2022 tourist season.
Following a year of recovery, the tourism sector is once again recording strong growth, with 2022 tourism figures largely exceeding those for 2021 and almost reaching pre-crisis levels.
According to the first indicators of Luxembourg's national statistics portal, STATEC, the number of overnight stays this year has more than doubled compared to the previous year (up 53%) but remained below (down 8%) that recorded in 2019, the last year before COVID-19. Data for the first seven months of 2022 have indicated that overnight stays in hotels increased by 44% compared to 2021 (down 12% compared to 2019) and those at campsites rose by 54% ( down 1.5% compared to 2019). Youth hostels recorded an increase of 139% compared to 2021 (down 17% compared to 2019).
The national tourism promotion agency, Luxembourg for Tourism (LFT), recalled that hotels estimate that they have recorded an occupancy rate of 66% for the month of August 2022 (compared to 44% in 2021). The campsites estimate that they experienced an occupancy rate of 83% in August 2022 (compared to 60% in 2021).
Regarding the number of overnight stays by Luxembourg residents in paid accommodation, there has been a substantial increase compared to 2021 (201,793 compared to 163,726). This trend was confirmed both in hotels (94,633 compared to 67,055 in 2021) and in campsites and other accommodation structures (107,160 compared to 96,671).
Minister Delles indicated in this regard that "the first feedback from tourism stakeholders suggests a very good assessment of the summer season, which underlines that interest in the tourist destination of Luxembourg continues to grow, especially among residents. This development is particularly important for businesses in the tourism sector. After being hit hard by the COVID-19 crisis, they have shown great perseverance and an innovative spirit. It should therefore be noted that the Grand Duchy has succeeded in maintaining, and even strengthening, its tourist appeal".
With the aim of promoting tourist attractions in Luxembourg, the "Lëtzebuerg, dat ass Vakanz" campaign targeted residents of the Grand Duchy, as well as cross-border workers and tourists coming from abroad. The "Guide for one day" initiative offered the possibility of discovering the country from a different perspective by following the one-day tour guides free of charge, while the "Vakanz genéissen" project made it possible to discover unusual places and idyllic tourist sites. Concocted by local chefs, these dinners provided an opportunity to savour regional products and highlight the know-how of the national terroir.
Minister Delles noted that the 2022 edition of the "Lëtzebuerg, dat ass Vakanz" campaign "highlighted the strengths of the five different regions of the country as well as the City of Luxembourg and demonstrated that the tourism sector demonstrates creativity and authenticity".
The minister also highlighted that in the future the new tourism strategy will be more integrated into the promotion and development of the Luxembourg tourist destination. Existing tourist activities will be even more adapted to current needs, especially in active, gastronomic and cultural tourism. The ecological, economic, social and cultural dimensions will be taken more into account in the tourist offer in order to improve the quality of life of tourists, residents and cross-border workers.