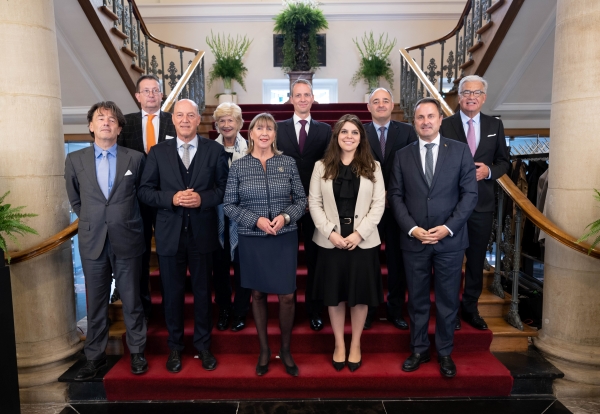 Credit: VDL Photothèque / Charles Soubry
On Thursday 29 September 2022, on the occasion of the 70th anniversary of the signing of the "Luxembourg Agreement", the City of Luxembourg (Ville de Luxembourg - VdL) invited a session of commemoration and remembrance in honour of this historic day and unveiled a commemorative plaque.
The commemoration ceremony was attended by Luxembourg's Prime Minister, Xavier Bettel, Ambassador of the Federal Republic of Germany, Ullrich Wilhelm Klöckner, Deputy Head of the Israeli Embassy in Brussels, Hadassah Aisenstark, and Mayor of City of Luxembourg, Lydie Polfer, amongst others.
The "Luxembourg Agreement" was signed on 10 September 1952 between then Chancellor and Foreign Minister of the Federal Republic of Germany, Konrad Adenauer, the Foreign Minister of Israel, Mosche Scharett, and the President of the World Jewish Congress, Nahum Goldmann, at the Luxembourg City Hall confirming the reparations paid by the Federal Republic of Germany to the Jewish people and the State of Israel as compensation for the crimes committed by Nazi Germany.
The speakers thanked the City of Luxembourg and recalled the story during their speeches. Mayor Polfer affirmed that the City of Luxembourg is proud to have had the honour of contributing to the rapprochement between the State of Israel and Germany and underlined the importance of continuing to commit to human values ​​of respect, tolerance, peace and freedom before presenting the original table on which the agreement was signed and on which were displayed various photographs and documents in memory of 10 September 1952, as well as a reproduction of the treaty which the German Federal Foreign Office has generously made available for the occasion. Subsequently, Dr Jens Hoppe, representative of the Conference on Jewish Material Claims Against Germany, gave a presentation on the birth and consequences of the "Luxembourg Agreement".
To close the session, an excerpt from the film "Reckonings – The First Reparations" by Roberta Grossman, a documentary on the process of the negotiations for the payment of German reparations to the Jewish people and leading to the Luxembourg Agreement in 1952, was shown to guests.