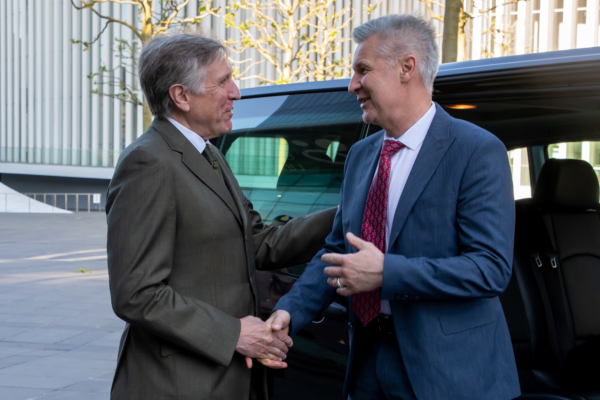 (L-R) François Bausch, Deputy Prime Minister and Minister of Defence; Artis Pabriks, Deputy Prime Minister and Minister of Defence of the Republic of Latvia; Credit: Luxembourg Army
On Wednesday 18 May 2022, at the invitation of Luxembourg's Deputy Prime Minister, Minister of Defence, François Bausch, the Deputy Prime Minister and Minister of Defence of Latvia, Artis Pabriks, paid a working visit to Luxembourg.
Minister Pabriks was welcomed in Kirchberg by a guard of honour from the Luxembourg Army.
During a working meeting, the two Defence Ministers took stock of bilateral defence relations in preparation for the NATO summit in Madrid. The Latvian delegation was briefed on the topics of cyber defence and space.
Regarding the field of cyber defence, the Luxembourg delegation presented its two flagship projects:
the Luxembourg Cyber ​​Range, a simulation platform allowing them to train and develop their expertise
and the Luxembourg Cyber ​​Defence Cloud, a cyber defence "cloud" secured to the highest standards.
In the field of space, Minister Bausch, notably offered to provide images of the future observation satellite, LUXEOSys, which will be launched next year.
At the end of the meeting, the Latvian delegation showed great interest in strengthening cooperation in these areas. "We have been working together effectively for years and look forward to continuing this collaboration over the next few years, especially on future projects in cyber and space." concluded Minister Bausch.
The visit ended with a visit to the SES company, in order to give an operational point of view on possible bilateral cooperation in the field of space.