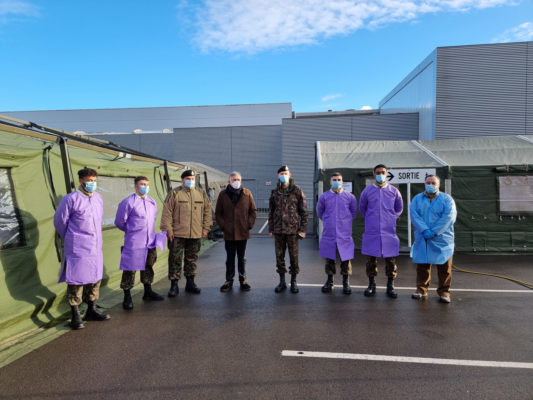 François Bausch, Deputy PM and Minister of Defennce, and General Steve Thull, Chief of Defence, surrounded by members of the Luxembourg Army; Credit: EMA
On Thursday 20 January 2022, Luxembourg's Deputy Prime Minister and Minister of Defence, François Bausch, and the Army Chief of Staff, General Steve Thull, visited one of the five screening centres that the army has set up as part of the campaign for free rapid antigen tests for employees who have received a first dose of a COVID-19 vaccine.
Miniter Bausch and General Thull visited the Luxembourg-Kirchberg screening centre and were updated on the progress of the procedure for antigenic tests on part of the army members, and took the opportunity to thank the members of the army and volunteers for their commitment.
"The army managed to implement this campaign in record time. I note that the process is going in an exemplary fashion and I would like to congratulate the army and its members for the accomplishment of these tasks and their commitment", said Minister Bausch during the visit.
These screening centres are specifically for employees who have their first dose of COVID-19 vaccine, and while waiting for their second dose and have received a set of 20 codes during the first dose administration, are able to make up to 20 appointments for certified and free antigenic self-tests. These codes are only valid in the five test centres managed by the Luxembourg army and until a complete vaccination schedule is obtained, and until 28 February 2022 at the latest. Appointments can be made 24 hours in advance on the website www.covidtesting.lu.
More than 130 members of the army are engaged in this campaign every day to ensure the management of these screening centres. The centres are located in the Luxexpo-South car park in Luxembourg-Kirchberg, at P&R South in Howald, in the car park near the Raemerich roundabout, within the ZANO industrial zone in Fridhaff and near the Junglinster multipurpose centre.
The screening centres are open from 06:00 to 20:00 on Monday through Thursday, 06:00 to 13:00 and 16:00 to 20:00 on Friday and from 06:00 to 10:00 and 16:00 to 20:00 on Saturday and from 06:00 to 10:00 and 13:00 to 20:00 on Sunday, until 28 February 2022.