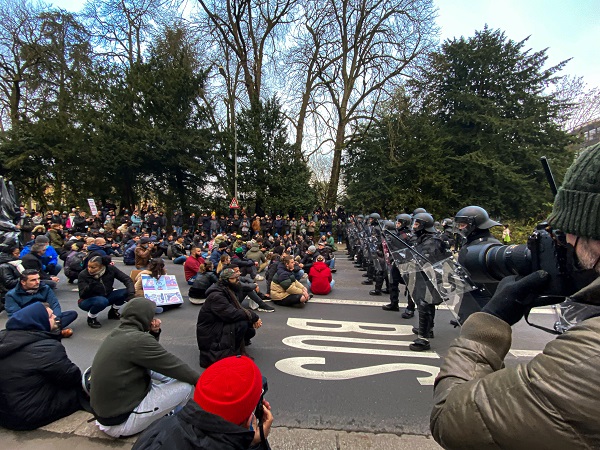 Protests in Luxembourg-ville on Saturday 18 December 2021; Credit: Ali Sahib
On Saturday 18 December 2021, around 500 demonstrators gathered in the city centre from around the Place de l'Europe in Luxembourg-Kirchberg and the Glacis car park in Luxembourg-Limpertsberg, and walked down the Avenue de la Porte Neuve towards the Bld Royal and the pedestrian zone in the city centre.
The Grand Ducal Police had put into place various systems to reinforce their presence, including additional colleague from Belgium, to ensure public order.
The first protestors started to congregate at around 13:30 today (Saturday), walking from the Glacis, with another group of circa 100 people marching from the Place de la Gare towards the city centre and the demonstration area. Police accompanied the protestors, with several streets in the Gare and Centre-Ville districts being temporarily closed to traffic.
Shortly before 15:00, the protestors passed the Christmas Markets on the Place de la Constitution; as the protest was peaceful, the market remained open.
At around 15:30, after the protestors arrived back at the Glacis, a small group broke away and tried to go towards the city centre; however, they were stopped by the police along the Avenue de la Porte-Neuve, without incident. The demonstrators returned to the zoned protest zone at around 16:00. However, a small group of about 20 people moved through the city centre, whereupon the police arrested two people.
At 17:00, around 50 people remained at the Schuman roundabout and continued to protest peacefully; the roundabout was still closed to traffic. Up to this time, the police arrested around half a dozen people in total.