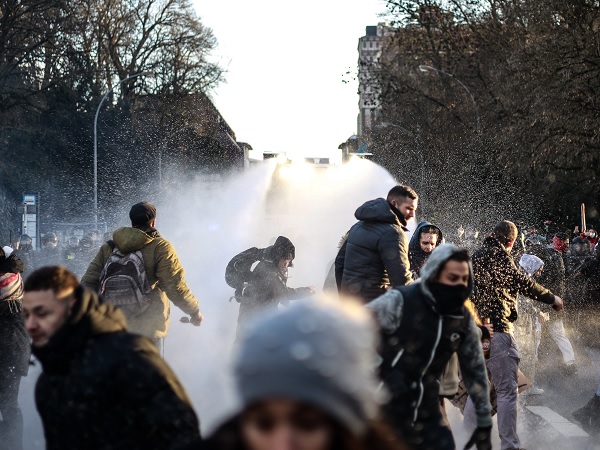 Police Use Water Cannon on Protesters; Credit: Ali Sahib
On Saturday 11 December, for the second weekend in succession, violence flared in Luxembourg-ville when protests against COVID-19 restrictions and vaccinations turned ugly.
Ahead of the planned protest, the Grand Ducal Police had drafted in reinforcements from Belgium.
Around 800 - 1,000 people had joined the afternoon's protest (police estimated around 500 people), with the first protesters starting to arrive at the Glacis car park in Luxembourg-ville from 14:00. They then moved to the planned start of the protest, with around 500 people congregating in the zoned area, blocking the Schuman roundabout in the process (this was only freed up after 16:30). At around 15:00 the first smoke bombs were thrown, with the police trying to contain the protesters in the designated area.
At around 15:30, a number of protesters on the Avenue de la Porte Neuve broke through the police cordon and proceeded to the pedestrian zone of the city centre. To contain them, the police pushed them back and used water cannon following a number of warnings.
According to the Grand Ducal Police, at around 16:30, one police officer was hit by a flare thrown by a protester, but he was not injured. The crowd started to disperse, with small groups trying to go towards the city centre. The police stopped them and arrested a dozen people.
The Christmas market at the Place d'Armes was closed, with a number of roads around the city centre closed; these were then gradually reopened to traffic.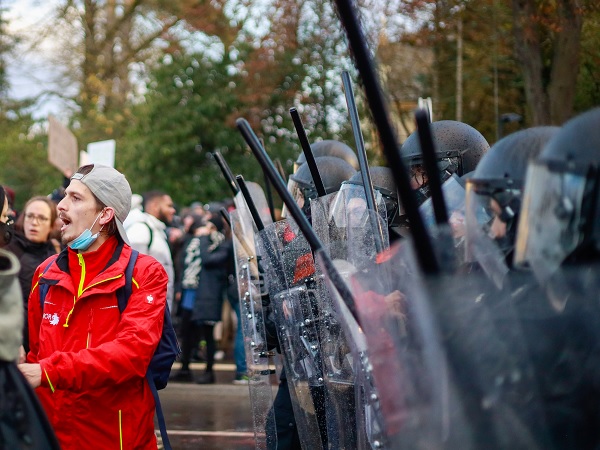 Photo by Ali Sahib