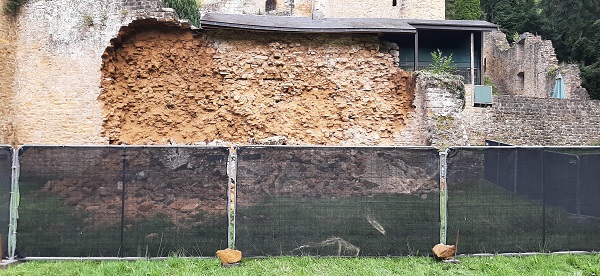 Collapsed wall at Beaufort medieval chateau; Credit: MCULT
Luxembourg's Ministry of Culture has confirmed that a wall has collapsed at the Chateau de Beaufort; nobody was hurt in the incident.
The incident happened on Friday 30 July at around 15:00. Part of an external wall of the medieval chateau collapsed: the site has both a medieval chateau and a renaissance chateau - it was the wall at the back of the information / reception / café area that collapsed.
A team from the National Sites and Monuments Service (SSMN) and an engineering officer arrived a short time later to secure the site and observe the damage to the masonry which dates from the mid-14th century.
After an initial assessment, the experts concluded that the subsidence may have resulted from significant infiltration of rainwater at the head of the enclosure wall, which was repointed with cement in the 1980s. It is worth nting that this method of restoration is no longer used nowadays.
According to the ministry, this exceptional and unpredictable event occurred despite regular checks and follow-ups that the SSMN has been carrying out on the site for years. In-depth analyses are underway and a reconstruction of the wall will be carried out during this year.
The Renaissance Château remains open to the public for guided tours (requires reservation in advance). The medieval Château is expected to reopen its doors to the public in the coming days.