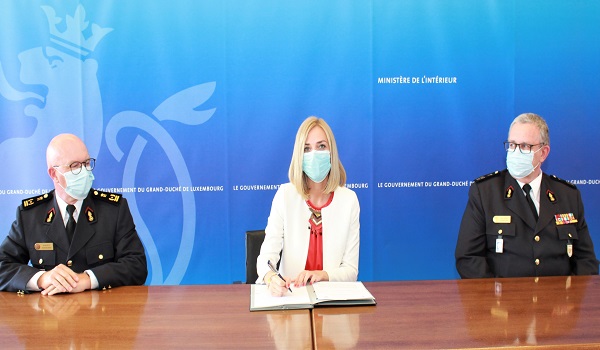 L-R: Serge Heiles, FNP Secretary General; Taina Bofferding, Luxembourg's Minister of the Interior; Marc Mamer, FNP President; Credit: MINT
On Tuesday 20 July 2021, Luxembourg's Minister of the Interior, Taina Bofferding, signed an agreement with the President of the national firefighters' federation (Fédération nationale des pompiers - FNP), Marc Mamer, and FNP Secretary General, Serge Heiles.
This agreement determines the commitments of the FNP in the interest of its members, which bring together the firefighters, fire and rescue centre associations and specialised intervention groups affiliated with it, as well as the regional federations.
The agreement fixes the subsidies that will be allocated to the FNP on an annual basis in order to cover in particular the costs linked to its operation, but also those linked to its participation in international meetings. An extraordinary annual subsidy is also dedicated to the activities of young firefighters and veterans, the Firefighters Museum "An der Géitz" in Wiltz and the Luxembourg Rescue Organisation (LRO).
Minister Taina Bofferding thanked the representatives of the FNP for their contribution to strengthening the feeling of belonging of women and men firefighters to a national body by defending their interests within the Grand-Ducal Fire and Rescue Corps (Corps grand​-ducal d'incendie et de secours - CGDIS).