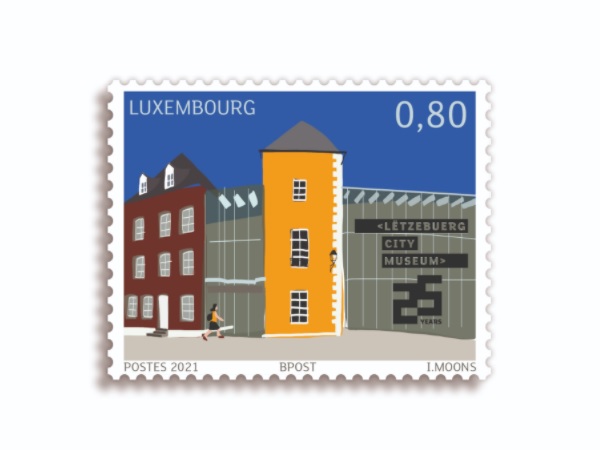 Luxembourg City Museum Stamp;
On the occasion of the 25th anniversary of the Lëtzebuerg City Museum, Claude Strasser, Director General of POST Luxembourg, presented Lydie Polfer, Mayor of the Ville de Luxembourg, with a special stamp issued by POST Philately.
The stamp, officially in circulation since 11 May 2021, was designed by Luxembourgish graphic artist Irina Moons and shows the facade and main entrance of the museum on the rue du Saint-Esprit side, with its characteristic glass roof.
The stamp was printed in high definition four-colour offset by Bpost Stamps Factory in Mechelen, Belgium. Its format is 48.75 x 38.15 mm. It is on sale for €0.80 at the museum as well as in all POST offices across the country.
The Lëtzebuerg City Museum was inaugurated under the name of "Luxembourg City History Museum" on 22 June 1996 by Mayor Lydie Polfer, in the presence of HRH Grand Duchess Joséphine-Charlotte.