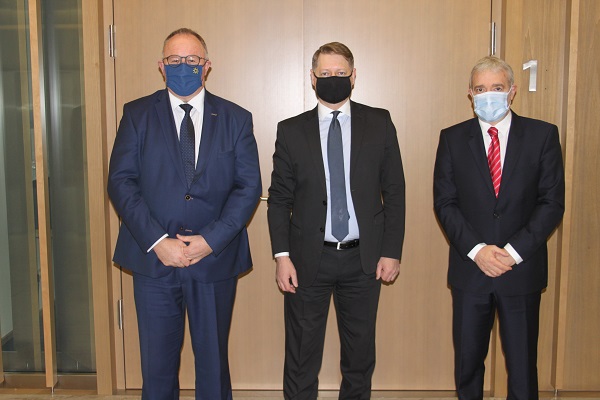 L-R: Romain Schneider, Luxembourg's Minister of Social Security; Cosmin Boiangui, Executive Director of ELA; Dan Kersch, Minister of Labour, Employment and Social and Solidarity Economy; Credit: MTEESS
On Thursday 25 February 2021, Luxembourg's Minister of Labour, Employment and Social and Solidarity Economy, Dan Kersch, and Romain Schneider, the Minister of Social Security, met with the Executive Director of the European Labur Authority (ELA), Cosmin Boiangiu.
During this exchange, Cosmin Boiangiu presented the main missions of the ELA which are in particular the control of the application of European laws, especially with regard to undeclared work, the reinforcement of the collaboration between European Union (EU) member states, particularly with the help of liaison officers, and better information for businesses and citizens.
Mr Boiangiu then presented the ELA priorities for 2021, namely an in-depth analysis of the consequences of the COVID-19 pandemic on the mobility of workers, the subject of posting in the construction sector and the theme of digitalisation. He also stressed the importance of good relations with national authorities for the proper functioning of his service.
Luxembourg's Labour Minister Dan Kersch highlighted the role of the free movement of European companies and workers. He also raised the importance of a European approach. In this vein, ELA could play the role of a coordinator of national approaches in the field. Similarly, he raised certain issues in relation to teleworking, in particular as regards a strict separation between private and professional life and issues in relation to the teleworking of cross-border workers.
The Minister of Social Security, Romain Schneider, in particular stressed the importance of the coordination of social security systems, including consultation between all stakeholders. He also suggested that the ELA could help protect one of the pillars of the EU: free movement.
Cosmin Boiangiu's Luxembourg visit continued with exchanges with representatives of the ADEM employment agency, the Inspectorate of Labour and Mines, the General Inspectorate of Social Security and the Joint Social Security Centre.
The ELA, which is currently operating from its offices in Brussels, will have its permanent headquarters in Bratislava and will be fully operational in 2024.