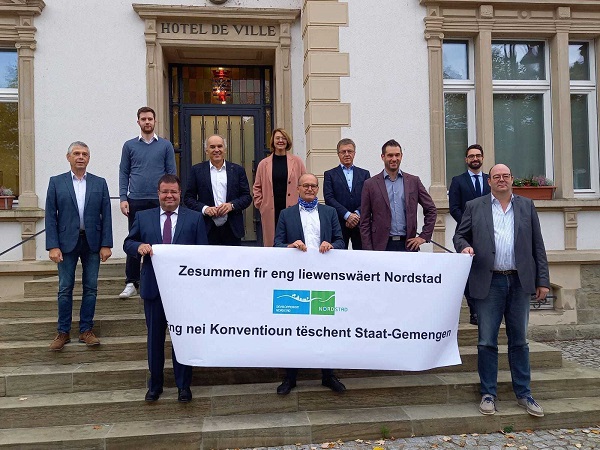 Credit: MEA
Luxembourg's Minister of Spatial Planning, Claude Turmes, and members of the "Nordstad" union signed today a new agreement on territorial cooperation between the state and Nordstad; president Claude Haagen and vice-presidents Claude Gleis and Bob Steichen signed on behalf of the union.
Minister Claude Turmes explained that this new agreement "specifies the objectives and missions, the terms of cooperation and the financial and administrative management of the development strategy for the municipalities of the Nordstad to be carried out jointly between the state and the inter-municipal union. It is the culmination of discussions led by the Department of Spatial Planning to ensure the continuation of decentralisation efforts as provided for in the government coalition agreement. It is important to underline that the agreement makes it possible to pursue the objectives of the Master Programme for Spatial Planning which aims, among other things, to promote inter-municipal cooperation for a regional regional planning policy that is sustainable, which aims to optimise land use and which respects environmental requirements".
The minister added: "The development of Nordstad is close to my heart, because it allows us to aim for a concentrated deconcentration capable of guaranteeing better spatial coordination of urban development, the distribution of employment and the organisation of transport systems. I am therefore particularly delighted to sign this agreement today, because it allows for enhanced cooperation between the state and the municipalities with a view to a better quality of life for the residents of Nordstad. A promising project in this context. This agreement is also part of the procedures currently being carried out, including that concerning the development of a Territorial Vision Nordstad 2035".
By signing, the parties undertake to continue the work started in 2005 with the conclusion of the first agreement between the municipalities of Bettendorf, Diekirch, Erpeldange-sur-Sûre, Ettelbruck, Schieren and the state, represented by the Minister of Spatial Planning.