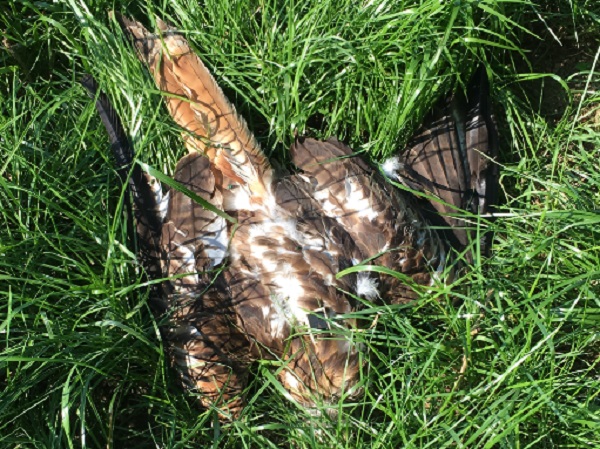 Red kite; Credit: Natur&Ëmwelt ASBL
The Grand Ducal Police and Luxembourg's Nature and Forest Agency have each launched a call for witnesses, the former in relation to a case of animal cruelty which resulted in the death of a cat and the latter concerning the poisoning of a red kite bird.
According to police reports, an unknown suspect shot a cat with an air rifle in Stegen, in eastern Luxembourg, last Friday. The incident occurred in or around Nic Pletschettestrooss some time between 17:10 and 18:30 on 9 October 2020. Despite receiving veterinary treatment, the cat died as a result of the severity of the injury.
Witnesses are asked to contact the Diekirch-Vianden police station via tel.: 244-801000 or email: police.diekirchvianden@police.etat.lu.
On a separate occasion, the Nature and Forest Agency called for witnesses following the poisoning of a red kite in western Luxembourg. At the beginning of August 2020, employees of the Natur & Ëmwelt ASBL found a dead red kite (Milvus milvus) on a grassland area near Rippweiler. This bird of prey is a protected animal species in Luxembourg.
Since the animal was apparently in good condition and no external or internal injuries were found during an autopsy, a sample of the goiter contents was transferred to a specialised laboratory for toxicological analysis. On the basis of this sample, it was possible to determine that the bird had died as a result of acute poisoning using poison bait, in which a high value of a prohibited insecticide was detected. The animal was equipped with a GPS transmitter for the purpose of scientific research, meaning that the approximate location of the bird of prey at the time of ingesting the poison can be determined.
The Nature and Forest Agency has appealed to potential witnesses to come forward and contact the agency via tel.: 247-56645 or email: infractions@anf.etat.lu.