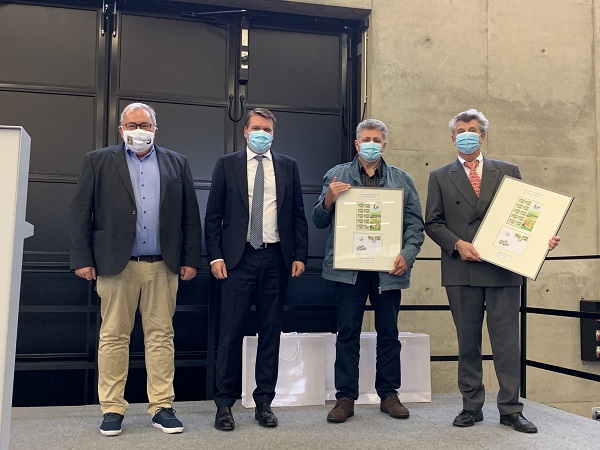 L-R: Emile Espen, POST Philately; Claude Stasser, Managing Director of POST Luxembourg; Eugène Kalmus, graphic designer; Justin Limpach, APTR President; Credit: POST Luxembourg
On the occasion of the 79th edition of Stamp Day, POST Luxembourg unveiled the philatelic programme for the year 2021 and awarded the prize for the most beautiful stamp for 2019.
On Saturday 26 September 2020, during the official opening of the exhibition "Journée du Timbre" (stamp day) organised by the Cercle Philatélique Ettelbruck at the Däichhal, Claude Strasser, Managing Director of POST Luxembourg, unveiled the winner of the "Schéinsten Timber 2019" (most beautiful stamp of 2019) competition.
A souvenir frame of the winning stamp, "Enfants et moutons" (children and sheep) from the "Rural Tourism" series, was given to the Luxembourg designer Eugène Kalmus. Following a draw among the participants in the public vote, the 1st prize, an electric scooter, was awarded to Melissa Specchio.
The "Rural Tourism" series, designed by Eugène Kalmus and published twice a year by POST Philately from 2019 until 2021 aims to help promote Luxembourg's offer in this area. It is carried out in collaboration with the APTR (Association for the Promotion of Rural Tourism in the Grand Duchy of Luxembourg) which is in charge of the classification of holiday homes.
During the opening, Émile Espen of POST Philately also presented he philatelic programme for the year 2021, announcing the releases of special series and stamps.