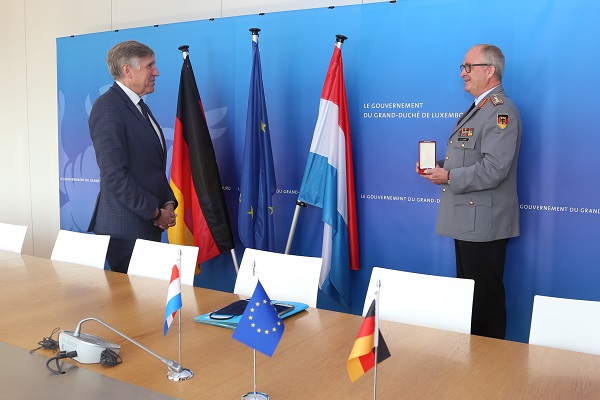 L-R: François Bausch, Minister of Defence; Inspector General Eberhard Zorn; Credit: EMA
On Monday 14 September 2020, Luxembourg's Minister of Defence, François Bausch, presented the insignia of the Commander of the Order of Merit of the Grand Duchy of Luxembourg to General Eberhard Zorn, the Inspector General of the German Army.
In his speech, Minister François Bausch highlighted the close cooperation between Germany and Luxembourg in the context of NATO's Enhanced Forward Presence (eFP) in Lithuania, as well as the United Nations Multidimensional Integrated Stabilisation Mission in Mali (MINUSMA). He also thanked the Inspector General for his commitment to deepening the excellent defence cooperation between the two countries.
The Order of Merit of the Grand Duchy of Luxembourg (Ordre de Mérite du Grand-Duché de Luxembourg) was established in 1961. The Grand Duke of Luxembourg remains the Grand Master of the order.