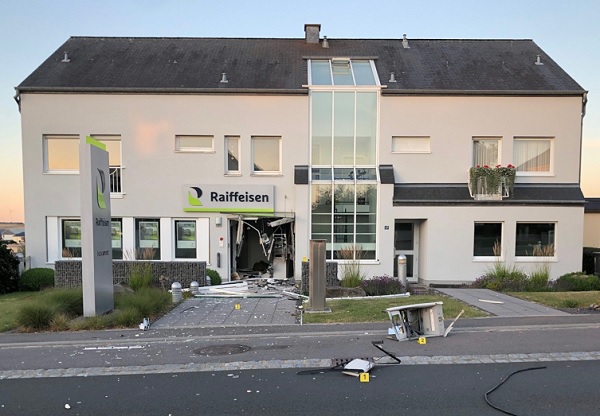 Raiffeisen bank, Weiswampach; Credit: Police Grand Ducale
The Grand Ducal Police have reported that in the early house of this morning, Thursday 6 August 2020, an explosion took place in Weiswampach in the north of Luxembourg.
At around 01:40, thieves had detonated an explosion to tear the ATM from the wall at the Raiffeisen bank in the town. Due to the impact of the explosion, the ATM machine was torn out of its fixture and debris was strewn several metres away from the explosion. There was considerable damage to property in the entrance of the bank building.
The public prosecutor's office was informed and has ordered the criminal police to gather forensic evidence and investigate the crime scene.
No one was injured in this incident.
The police have launched an appeal to public - anyone who noticed anything suspicious (including vehicles) or anyone acting suspiciously at or around the crime scene before, during and after the crime, is asked to contact the police at tel: 113.