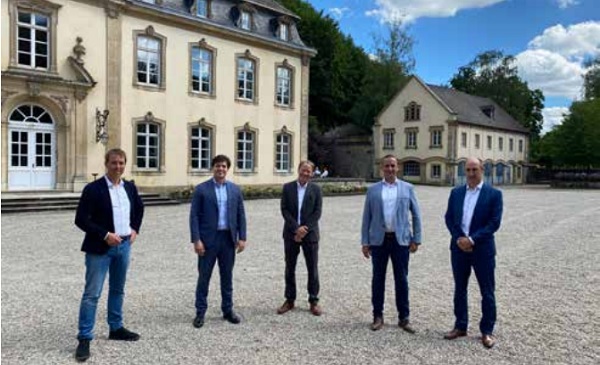 The future of the Château de Septfontaines in Luxembourg-Rollingergrund has been secured as Villeroy & Boch and ICN Development have signed an agreement with the Luxembourg School of Business (LSB).
Over two hundred years ago, Pierre-Joseph Boch, then director of the Faïencerie de Septfontaines, congratulated the Architect Fresez on the construction of the castle of the same name, in a style of the era, which last month was the scene of an important event regarding its future.
Despite the COVID-19 pandemic that affects all areas of the world economy including Luxembourg, the managers of Villeroy & Boch (owner of the chateau and its annexes), ICN Development (in charge of the development of the new Faïencerie district with its partners BESIX RED and TRALUX Immobilier), and the managers of Luxembourg School of Business, signed an agreement on 26 May 2020 sealing the future of the location for the coming years.
From next year, the chateau, its stables and the old car garage (Kutscherhaus), will welcome LSB students in its premises which are being renovated with the support of the Service des Sites et Monuments Nationaux. As well as classrooms and conference rooms, the chateau will also provide accommodation for teachers and lecturers invited by the graduate school, for the duration of their stay in Luxembourg.
"This agreement clearly lays the foundation stone of our creation project, on the site of the former Villeroy & Boch factory in Rollingergrund, in the brand new district of the City of Luxembourg, which we want to be alive, welcoming, dynamic and human", stated Nik Coenegrachts, director of ICN, who welcomed the signing of this agreement, launching the Faïencerie works project, which will span several years.
For the Luxembourg School of Business, this is an important step towards the realisation of a vision of a Luxembourgish business school with a global influence. "This new campus, steeped in history, will allow us to welcome international professors coming from world's leading universities to Luxembourg, in a unique setting and an atmosphere that lends itself ideally to learning", explained Marin Njavro, the director of LSB.
Dr. Peter Delwing, who took part in the talks and signed the document on behalf of Villeroy & Boch, said he was happy and proud to know that the magnificent chateau will see many Luxembourg and foreign students preparing for a stimulating and promising future: "One cannot imagine a more suitable site to focus on one's own future."
The renewable five-year lease will come into effect at the beginning of 2021, once the renovation work has been completed.
In the coming months, the ICN Development - TRALUX Immobilier - BESIX RED consortium, together with Luxembourg City Services, plans to introduce the new Plan d'Aménagement Particulier (PAP) which will launch the development phase of Faïencerie.