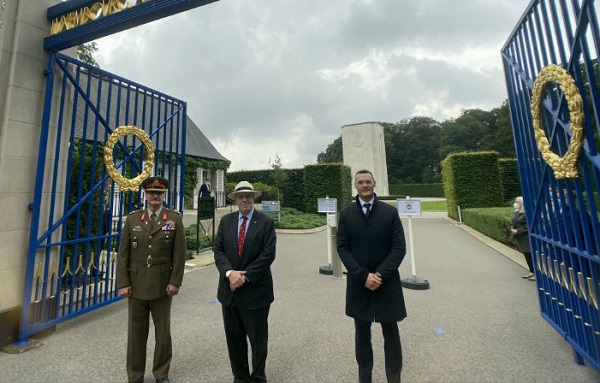 Credit: U.S. Embassy in Luxembourg
This afternoon saw the official reopening of the Luxembourg American Cemetery in Hamm; new visitation and health and safety restrictions have been put in place in the context of the COVID-19 health crisis.
On Wednesday 17 June 2020, U.S. Ambassador to Luxembourg, J. Randolph Evans, hosted the official reopening to the public of the Luxembourg American Cemetery. The ambassador was joined on this occasion by Chief of Defence General Alain Duschène, LuxAir CEO Gilles Feith and Cemetery Superintendent Jennifer Roman. The symbolic reopening of the cemetery main gate was followed by a moment of silence observed at General George S. Patton's grave and remarks by Ambassador Evans.
In his address, Ambassador Evans stated: "Today is an important day as the world moves forward towards a new normal. Returning to places we treasure is so important to making us feel whole and this particular place is such a big part of the shared history of Luxembourg and United States. As we face new challenges today, the heroes that rest here give us perspective that we will face many challenges in our lives, but some things, like our freedom and safety, are worth fighting at all costs to save".
In order to allow for proper social distancing at the cemetery, visitors must book an appointment to visit Luxembourg American Cemetery through this link: https://abmc.as.me/schedule.php. This is a free reservation process that allows for appropriate spacing on-site. Next-of-kin and family members of the deceased, as well as Second World War veterans, should contact the cemetery ahead of their visit to Luxembourg American Cemetery and all other American Battle Monuments Commission (ABMC) locations.