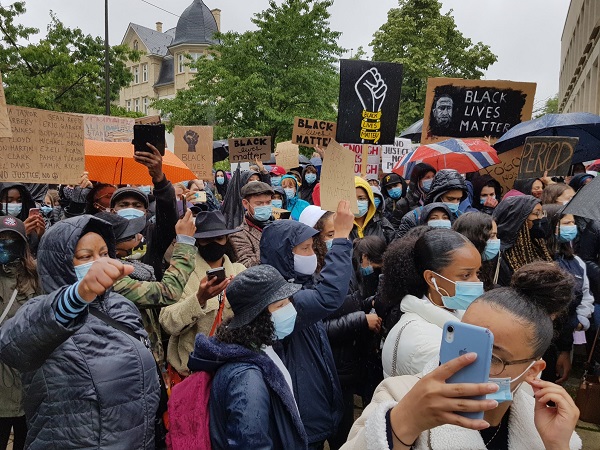 Credit: Jazmin Campbell
Around 1,500 people of all ages and skin colours braved the rain this afternoon to protest peacefully against racism outside the US Embassy in Luxembourg-Limpertsberg.
As well as protesting against racism, the demonstration, organised by local non-profit Lëtz Rise Up, served as an act of solidarity and demanding justice after the death of George Floyd, an unarmed black man who died at the hands of a white Minnesota police officer last week. The incident has sparked outrage across the US and worldwide, culminating in a series of protests such as the one organised in Luxembourg City today.
In light of the ongoing COVID-19 health crisis, demonstrators were asked to comply with the current health requirements, namely the compulsory wearing of masks and social distancing (two metres apart). For the most part, participants appeared to respect these rules. Indeed, the organisers requested permission in advance from the relevant authorities to be able to hold the protest in spite of the general limit of maximum 20 people taking part in outdoor gatherings. The Grand Ducal Police were also on hand to ensure these restrictions were being respected and keep the peace, as were various safety volunteers.
A continuous influx of protesters arrived at the embassy from 14:00 onward, many of them chanting and carrying signs to bring home their messages of anti-racism and pro-justice.
In response to today's protest, US Ambassador to Luxembourg, J. Randolph Evans, issued the following statement: "I heard you and I thank you for the peaceful protest so others could hear you as well. We, as Americans, must and will continue our efforts individually and as a nation to work toward a more perfect union, fulfilling the sacred commitments we have made to each other in our Constitution equally, fully, and completely".