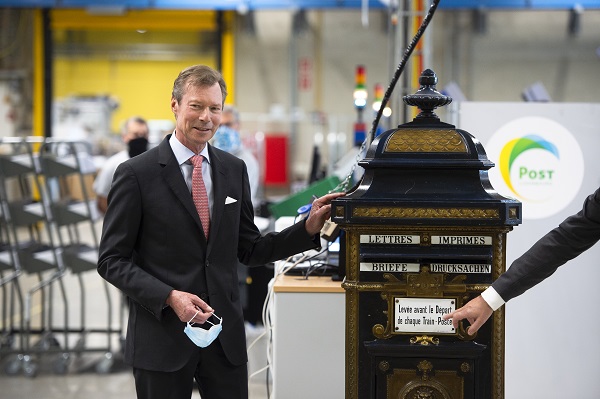 Grand Duke Henri at the National Sorting Centre of POST Luxembourg in Bettembourg; Credit: POST Luxembourg
On Wednesday 20 May 2020, His Royal Highness the Grand Duke, accompanied by the Minister of the Economy, Franz Fayot, paid a visit to the POST Luxembourg "National Sorting Center" in Bettembourg.
At the invitation of Serge Allegrezza, Chairman of the Board of Directors, and Claude Strasser, Director General of POST Luxembourg, HRH the Grand Duke went to the "Center de Tri national" in Bettembourg and paid personal tribute to all POST Luxembourg employees for their remarkable commitment during the period of crisis due to COVID-19.
"The work that is carried out in each POST profession, during all the stages of this crisis that we are going through, is impressive. It is the result of the commitment and dedication of employees, especially those who are in direct physical contact with customers and who continue to provide the services essential to the proper functioning of the country, both for the population and for businesses" underlined Claude Strasser, adding" The exceptional visit of His Royal Highness the Grand Duke to the National Sorting Centre is a great honour and fills us with pride."

During the site visit, Claude Strasser, accompanied by Hjoerdis Stahl, Director of POST Courrier and Deputy Director General of POST Luxembourg, presented to HRH the Grand Duke and to the Minister responsible for POST Luxembourg, the functioning of the National Sorting Centre which centralises the distribution of nearly 126 million letters and 4 million parcels per year, as well as 65,000 newspapers per day. Also, since the beginning of the confinement period, the volume of packages has more than doubled, to exceed 30,000 packages per day.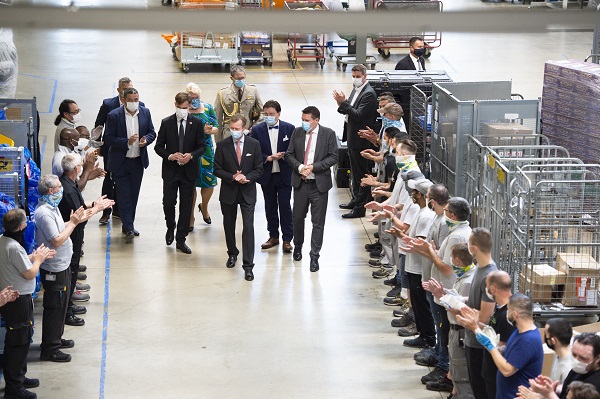 His Royal Highness the Grand Duke then had the opportunity to discover the operation and the different stages of postal sorting and the logistics chain of parcels. He also took the opportunity to engage with agents of the Sorting Centre and postmen of the Bettembourg distribution centre on their work and their feelings since the beginning of the health crisis caused by COVID-19.
Another highlight of the visit was the discovery of the postal stamp created specially on the occasion of the birth of His Royal Highness Prince Charles and whose inscription "Long live the Prince" will be seen on postal mail for several weeks.
Claude Strasser then explained to HRH the Grand Duke the non-negligible role played by all the other trades of POST Luxembourg during this difficult period: Telecommunications, Technologies, etc., without forgetting the logistical aspect and the essential role played in recent months by the Findel logistics centre.
At the end of the visit and in the presence of all the guests, His Royal Highness the Grand Duke was presented with a gift specially made for the occasion.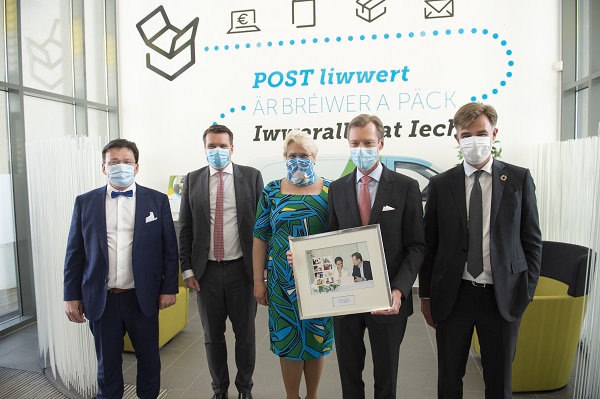 Copyright: POST Luxembourg