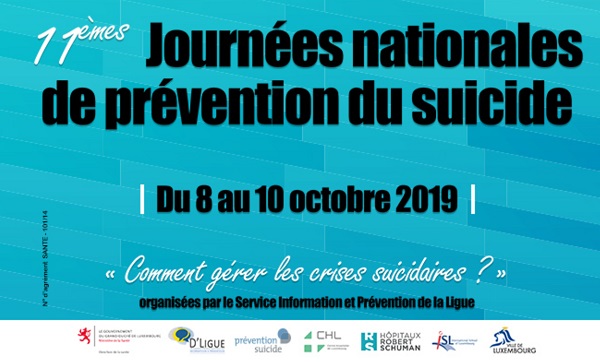 Credit: d'Ligue
The 11th National Days of Suicide Prevention will be taking place in Luxembourg next week, from Tuesday 8 October to Thursday 10 October 2019.
The biennial event, which is placed under the high patronage of Deputy Prime Minister and Minister of Health, Etienne Schneider, forms part of activities organised within the framework of World Suicide Prevention Day, held annually on 10 October.
This year's programme will revolve around the topic "How to manage suicidal crises?". Just as a suicidal crisis can take various forms, so too can its prevention. In this context, d'Ligue, a local mental health assoiciation, is organising this three-day event in Luxembourg to raise awareness of potentially life-saving measures. The event is aimed at those directly or indirectly affected by suicide, as well as professionals in the medico-social or pyschological sectors.
The National Days of Suicide Prevention will kick off on Tuesday 8 October 2019 with a public session at the International School of Luxembourg (ISL) from 19:00. Speaking on this occasion is Stefan Lange, a German author and YouTuber who has gone through and overcame phases of suicidal crisis and now works in suicide prevention. His testimony will be accompanied by musical interludes by pianist Pol Belardi.
On Wednesday 9 October 2019, the event continues with plenary lectures and workshops with national and international experts at the Soeurs Franciscaines (Franciscan Sisters) convent, from 08:45 to 17:30. Participants will discover national mechanisms for suicide prevention, case management and crisis centres, as well as learning how to prevent suicide among the youth and older people, in the workplace and online.
Exceptionally this year, the theme of World Mental Health Day on Thursday 10 October 2019 is suicide prevention. On this occasion, the Information and Prevention Department of d'Ligue is partnering with the Hôpitaux Robert Schuman to offer a series of conferences on the theme: "Hospitals facing suicide".
The detailed programme is available at https://www.prevention-suicide.lu/jnps2019/.