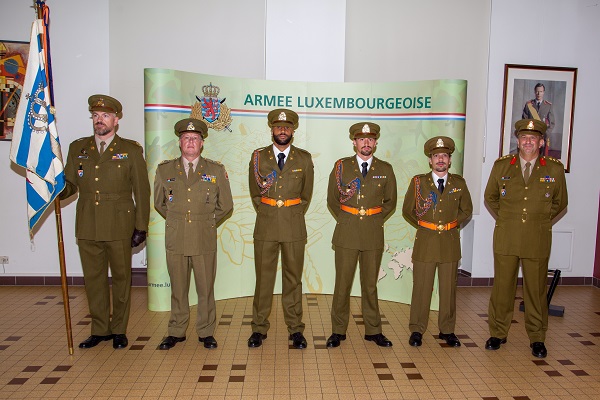 (L-R); flag-bearer; Major Joseph Bredimus, Warrant Officer of the Military Centre Corps, and Colonel Yves Kalmes, Commander of the Diekirch Military Centre, flanking the three new Army Captains; Credit: EMA
On Thursday 18 July 2019, three captains of the Luxembourg Army were sworn in by Colonel Yves Kalmes, commander of the military centre in Diekirch.
The corporals attended the following courses from February 2018 to November 2018:
• "Team & Long Section" Training at the Royal School of NCOs of the Saffraanberg Campus in Sint-Truiden, Belgium.
• "Force Protection" Training at the Competence Centre in the manoeuvre department in Stockem, Belgium.