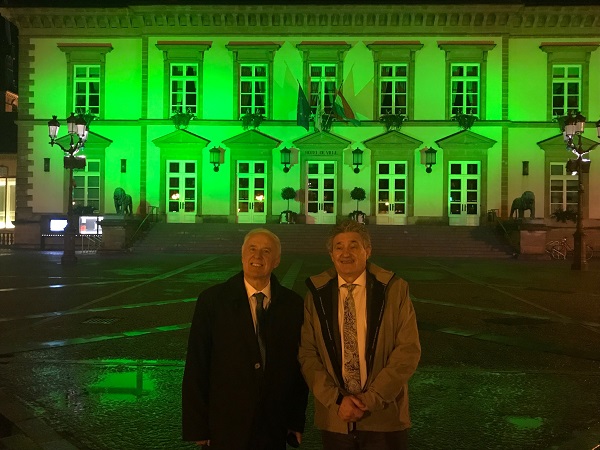 L-R: Irish Ambassador to Luxembourg, Peadar Carpenter; Ireland's Minister of State for Training and Skills, John Halligan; Credit: Geoff Thompson
On Thursday evening, the Irish Ambassador to Luxembourg, Peadar Carpenter, hosted a St Patrick's Reception at the Cercle Cité on Place d'Armes in Luxembourg city centre.

In his last such national day reception in Luxembourg before his departure back to Ireland this summer, Ambassador Carpenter addressed the 200+ invitees from the Irish community in the Grand Duchy as well as the representatives of the diplomatic corps and Luxembourg's political and business community, first in Irish, and then in English, and welcomed everyone to the reception.

Special guest, John Halligan, Ireland's Minister of State for Training and Skills, mentioned some of the meetings he had earlier in the day with Luxembourg's Ministry of the Economy and others and referred to being asked about Brexit whereupon he explained about the Good Friday Agreement and its importance.

He talked also about travelling at this time to all corners of the globe and the importance of meeting the Irish diaspora. He recalled how well Ireland has done since the financial crisis, including stressing that foreign direct investment (FDI) continues to flow into Ireland, creating thousands of jobs and supports, in particular, the SME sector. He specially mentioned Ireland's strengths in nanotechnology, agriscience, mathematics and computer diagnostics.

He said that Ireland is a close friend and integral part of Europe and also acknowledged Britain and Ireland's close links. He similarly mentioned the importance of Ireland's cultural heritage in evidence across the world.

Following the reception, Minister Halligan joined Ambassador Carpenter on the Place Guillaume II where the Hotel de Ville (city hall) was illuminated as part of the world-wide "Greening" initiative.