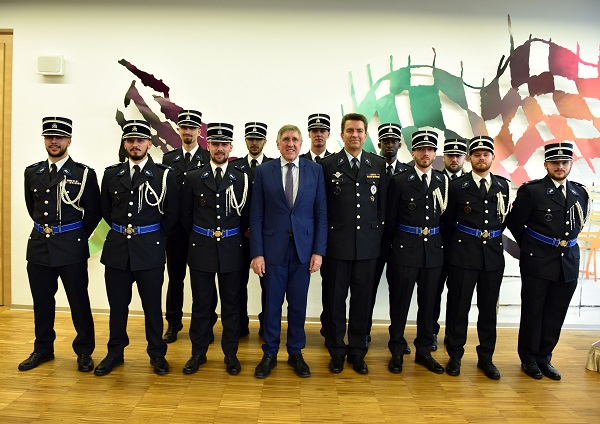 Minitser Francois Bausch with 11 new promoted officers; Credit: Grand Ducal Police
The 29th swearing-in ceremony of candidates for promotion to Brigadier took place on Tuesday 12 February 2019 in the presence of Luxembourg's Minister of the Interior, François Bausch, and the Director General of the Grand-Ducal Police, Philippe Schrantz, at the regional capital of the Luxembourg Police; this is the last promotion for recruits under the old regime.
The ceremony was conducted with a set of Military Music.
The following 11 candidates were sworn by the Director General of Police:
- Claudio COELHO NUNES
- Elmir COSIC
- Daniel DA SILVA PINTO
- Julien DEVENET
- Gregory DIAS
- Daniel GOMES FERREIRA
- Aristotle KITENGE KABEMBA
- Sven KOENER
- Laurent Jean PARAGE
- Jeff PAULY
- Semir RASTODER
Daniel GOMES FERREIRA was distinguished as the best candidate of the promotion, Daniel DA SILVA PINTO as best student and Gregory DIAS as best athlete.
After voluntary service with the Luxembourg Army, the candidates spent 12 months of training at the Police Academy. They will now be assigned to the Guard and Operational Support Unit (UGAO).