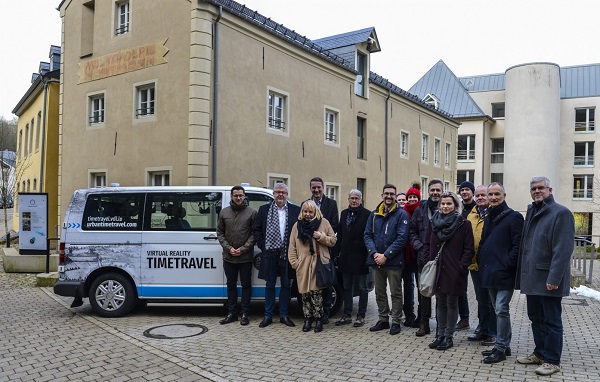 Kaiserslautern delegation; Credit: Charles soubry, copyright Photothèque de la Ville de Luxembourg
On Wednesday 6 February 2019, Serge Wilmes, first alderman of the Ville de Luxembourg, hosted a delegation from the German city of Kaiserslautern.
The Kaiserslautern delegation was composed of Dr. Klaus Weichel, Mayor of Kaiserslautern, Mr. Prof. Dr. Dieter Rombach, Director of the Fraunhofer Institute for Experimental Software Engineering, Wolfgang Mayer, Chief of Tourism and Information Technology, Mrs. Julia Bickmann, Chief of Tourism, Mrs. Katrin Fechner and Mr. Martin Wilke of KL Digital, Mrs. Manuela Margraf from the Tourism Department, and Mr. Marius Henkel from the IT Department.
After a welcome at the Hôtel de Ville and a short introduction to the Ville de Luxembourg and its "smart city" projects, the delegation took part in a guided tour of augmented reality in the city centre before taking the panoramic lift. The visit continued in Pfaffenthal where guests were able to discover daily life in the 19th century through the virtual reality project "Urban Timetravel".