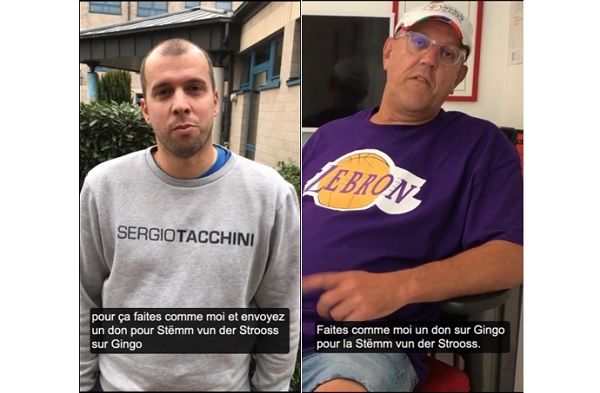 Stëmm vun der Strooss crowdfunding campaign (L-R): Gilles Muller, Rocky;
After a successful first campaign that led to the acquisition of a professional oven in May last year, Stëmm vun der Strooss has launched a new campaign on the Gingo crowdfunding site.
As in the previous project, Stëmm vun der Strooss hopes to raise €30,000, with this campaign to finance the salary of a cook hired for 20h/week for one year.
This time, the association can count on the support of two Luxembourg personalities, the basketball player Rocky and the tennis player Gilles Muller. A video showing them launching a call for donations on Facebook will be broadcast throughout the campaign.
If this call for support is so close to the first campaign, it is because the problem has increased: over the last three years, the number of meals served in the social restaurants of Esch-sur-Alzette and Hollerich has expanded significantly by 66%. While 64,996 meals were served in 2015, the number rose to 107,918 in 2018. By looking at the figures from the restaurant in Hollerich, the increase is even more glaring: in 2018, 78,704 meals were prepared, compared to 45,722 in 2015. In this case, the increase is 72%.
To prepare all these meals served to disadvantaged people, the skills of a cook are unavoidable.
This is how the Stëmm vun der Strooss kills three birds with one stone: In addition to fighting against poverty, it is involved in the fight against food waste and promotes professional reintegration. To make a donation that is tax deductible, see https://www.gingo.community/en/stemm-vun-der-strooss