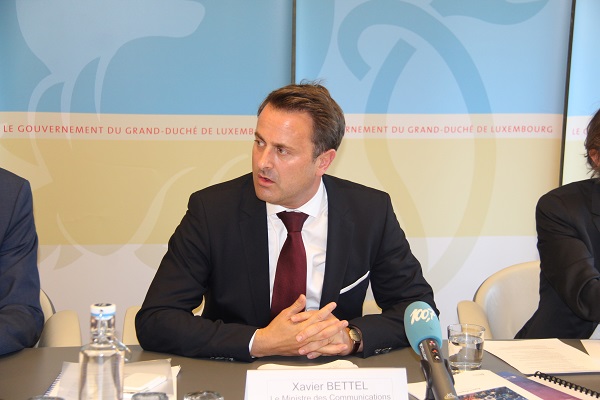 Xavier Bettel, Prime Minister and Minister of Communications and Media, at the 5G strategy launch; Credit: ME
On Wednesday, Xavier Bettel, Luxembourg's Prime Minister and Minister of Communications and Media, launched the country's 5G strategy.
5th generation (5G) mobile networks will be essential to enable the next wave of productivity and innovation in the various sectors of the Luxembourg economy and to open up new opportunities in many areas of daily life. The 5G network will be a crucial part of our national infrastructure for businesses, but also for citizens.
Luxembourg's national strategy is part of the European Commission's Action Plan for 5G and the European roadmap for the introduction of 5G, which aims at first deployments in 2020. It was developed after consultation many interested parties, following a meeting of the Digital Luxembourg infrastructure group on this subject in July 2017.
The 5G strategy is based on an analysis of various aspects of the 5G network, such as business models, market demand, regulatory considerations and funding models. The strategy plans to position Luxembourg as one of the pioneers of 5G, in particular by setting up first deployments through pilot projects. These pilot projects should be launched as early as 2020.
Areas envisaged for pilot projects are:
• Part of the Kirchberg plateau with cultural and leisure facilities;
• The Belval site with the university;
• The "CFL Multimodal" center in Dudelange;
• The Automotive Campus in Bissen;
• A section of a major traffic axis.
The national strategy for 5G will be discussed with stakeholders and different aspects can be developed through thematic workshops or working groups to be set up.
Interested parties can contact the Media and Communications Service team: 5G@smc.etat.lu