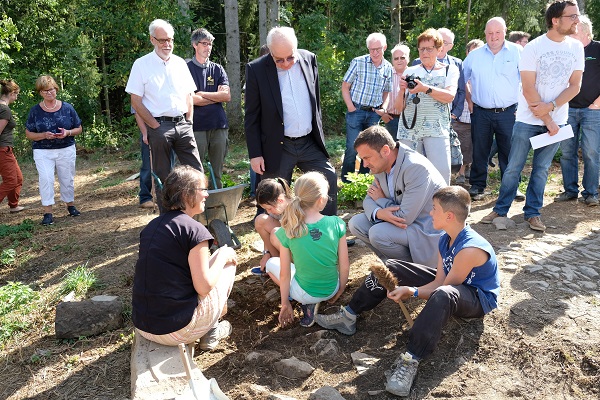 Pirmesknupp Archaeological Dig; PM Bettel with young archaeologists; Credit: MCULT
On Friday 10 August 2018, Luxembourg's Prime Minister, Xavier Bettel, in his capacity as Minister of Culture, accompanied by the Secretary of State for Culture, Guy Arendt, visited the "Pirmesknupp" archaeological excavations near Kaundorf in the north of the Grand Duchy.
The history of this site dates back to Roman times: Gallo-Roman remains were discovered in 1838 with coins dating back to the 2nd century AD. From the 8th century, curative powers were attributed to the water spring on the site and a first chapel dedicated to Saint Pirmin was erected on the promontory. Throughout the centuries, the site has had various owners and has undergone a number of redevelopments, including a farm belonging to the Benedictine abbey of Altmünster during the 12th century and a hermitage dating back to the 18th century. The farm was destroyed by a fire in 1936.
In 1973 the "D'Poermesfrënn" association was created and invested in the site. In 2012/2013 various items of important evidence from the Roman era were discovered and, with the help of archaeologists from the National Center for Archaeological Research (CNRA) and other experts, the great archaeological potential of the "Pirmesknupp" could be documented through geophysical analysis. In the meantime, different parts of the site were classified as national monuments or have been added to the supplementary inventory.
In order to better know the site and especially the former farm, the "D'Poermesfrënn" association has organised polls that have been held since 16 July, thanks to the valuable help of volunteers and students under the assistance of Georges Kayser Altertumsfuerscher, CNRA and the Water and Forests Administration.
PM Bettel and Secretary of State Arendt were able to see first-hand the interesting discoveries that have already been made and thanked everyone involved in the archaeological excavations. PM Bettel emphasised the importance of their work: "Your commitment to the history of this region and the country, whether volunteer or not, is remarkable. I want to pay particular tribute to the presence of students and young people who show interest in our past."
In searches that have been going on for more than 3 weeks, researchers have mainly made discoveries dating back to the 20th century, including weapons, ammunition and food rations documenting the presence of US soldiers during the Second World War. The walls of the farm were analysed and it has been established that they are structures that have never known the agricultural revolution and are in this sense an important witness of the time.