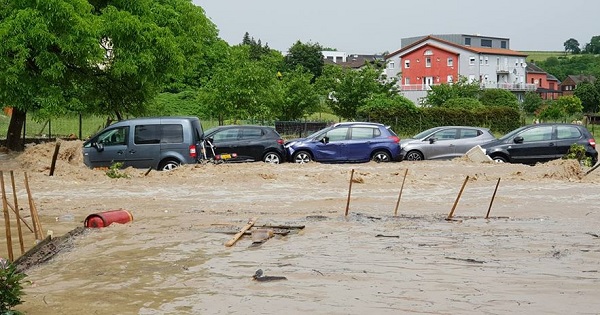 Flooding in Greiveldange; Credit: John Chalmers
On Tuesday 12 June 2018, François Bausch, Luxembourg's Minister of Sustainable Development and Infrastructures, Dan Kersch, Minister of the Interior, and officials of the Administration des Ponts et Chaussées (the Roads and Bridges authority) met with officials of the municipalities most affected by the recent floods, namely Beaufort, Berdorf, Consdorf, Echternach, Rosport and Waldbillig.
The municipal officials expressed their grievances and received detailed explanations of the road damage. The ministers assured them of their greatest possible support and that the damaged infrastructure will be restored as quickly as possible by the services of the Forest and Nature Administration, the Water Management Authority and the Ministry of Natural Resources, as well as the Administration des Ponts et Chaussées.
These authorities will remain attentive to any other grievances from the municipalities concerned and will be kept informed of developments on the ground.