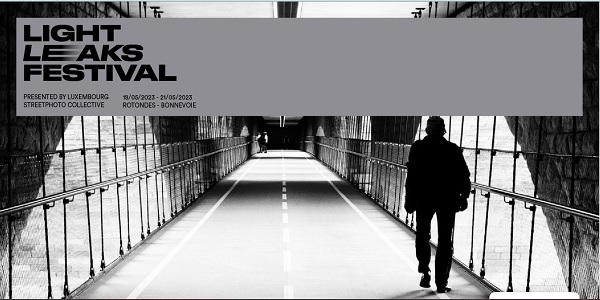 Credit: lightleaks.lu
Rotondes has announced that the Luxembourg Street Photography Festival is returning this year under a new name: Light Leaks Festival.
This street photography festival will take place from Thursday 18 to Sunday 21 May 2023. It is open to the public from 18:00 to 21:00 on 18 May, 17:00 to 20:00 on 19 May, 09:30 to 19:00 on 20 May and 10:00 to 18:00 on 21 May.
According to Rotondes, the new name reflects the festival's "new focus on everyday life and urban testimonies through the eyes of photographers".
A dozen Luxembourgish photographers will have their work exhibited at Rotondes. In addition to the Open Wall, the DiscoverBox and various workshops, Rotondes will also unveil a new open-air exhibition as part of this festival. From 18 May to 11 June 2023, this exhibition will showcase the works of two internationally renowned artists: Tatsuo Suzuki and Graciela Magnoni.
These two artists, together with Belgian photographer Max Pinckers, will offer talks and exhibit their work at the festival. Visitors will have the opportunity to participate in conferences (reservations via the website below) with these photographers. Specific workshops on the practice of film photography or on legal issues related to street photography will also be organised within the festival's framework.
Documentary photographers and photojournalists, professionals and amateur photographers will come together to exchange and share knowledge on this occasion.
The exhibition will be accompanied by a photo equipment market as well as photographic book stands. The professionals present will also offer a special meeting to take a critical look at the portfolios of "amateur" photographers who have registered via the dedicated website.
The programme includes workshops such as:
Beginner Street photography Workshop, on Saturday 13 May 2023 from 09:00 to 12:30 and Saturday 20 May 2023 from 10:00 to 12:00 at Rotondes, Buvette and the Co:Work
Analogue Workflow Workshop (in Luxembourgish, French and/or English), on Sunday 21 May 2023, from 10:00 to 13:00 at the Co:Work
More details about the programme and conditions for registration can be found at www.lightleaks.lu and www.rotondes.lu.