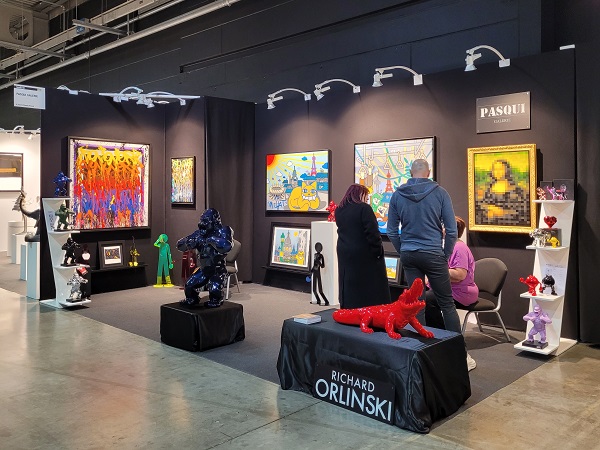 Pasqui Galerie; Credit: Jazmin Campbell/Chronicle.lu
The sixth edition of Luxembourg Art Fair began in a relaxed atmosphere at Luxexpo The Box in Luxembourg-Kirchberg on Thursday evening.
About 80 national and international galleries, presenting some 3,000 artworks (from sculptures to paintings and photographs), have set up shop temporarily at Luxexpo The Box for this international contemporary art fair. The event is taking place from Thursday 20 to Sunday 23 April 2023 inclusive.
Chronicle.lu had the opportunity to attend the vernissage on Thursday evening and to speak with some of the exhibitors. The hall was not quite full, which meant that visitors could admire the displayed works leisurely and at their own pace, although the exhibitors were hopeful for some more foot traffic (and potential clients) over the coming weekend. Live music and catering added to this relaxed atmosphere. Whilst many of the exhibitors had come over from neighbouring France, there were also several Belgian, German and Dutch galleries present, as well as local exhibitors from Luxembourg and galleries from Spain, Italy, Switzerland, Georgia and even Singapore, among others.
Speaking to Chronicle.lu, a represenative of Brussels-based gallery Art Yi, present in Luxembourg for the first time, considered this event to be a good opportunity to attract a different clientele in an international setting. The gallery itself represents various multicultural artists, such as France Courpotin, a French artist whose art draws inspiration from the Japanese culture. The represenative noted the "quiet start" on Thursday evening but expected the crowds to arrive over the weekend. If this first event proves successful, Art Yi could return to the Grand Duchy for future events such as Luxembourg Art Week.
A represenative of Pasqui Galerie, which is based in Saint-Étienne in France, noted that this was also the first time the gallery was present at an exhibition in Luxembourg. On display were works by various street artists and emerging artists based in France, notably Marie KVK's pixelated portrait of the Mona Lisa and artworks featuring "Monsieur Chat" (a graffiti cat icon).
Luxembourg Art Fair is open to the public on Friday 21 April from 16:00 to 22:00, on Saturday 22 April from 11:00 to 20:00 and on Sunday 23 April from 11:00 to 19:00. Tickest cost €10 for adults; entry is free of charge for minor children accompanied by an adult.