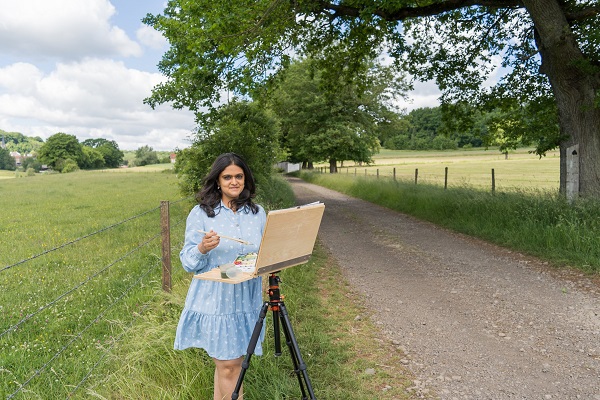 Sushma Hegde;
Luxembourg-based illustrator Sushma Hegde recently published a nature-inspired watercolour book for beginners called Wildflower Watercolor: The Beginner's Guide to Painting Beautiful Florals.
Chronicle.lu spoke with the local artist to learn more about her book, which, since its release in mid-March 2023, has become a bestseller in the "Watercolor Painting" category on Amazon.com.
Born and raised in India, Sushma Hegde started her career as an automotive engineer in her home country before moving to Germany to pursue her university studies in that same field. She later worked as an engineer in Germany. Two years ago, she moved to Luxembourg with her husband who got a job at the University of Luxembourg. "This was the perfect opportunity for me to take a break from my engineering career and focus on my art journey," she said.
Speaking about the inspiration for her watercolour book, Sushma Hegde noted: "The biggest motivation for my paintings has always come from nature. Living in the midst of greenery and beautiful landscapes in Luxembourg has been a constant inspiration. Seeing the flowers growing wild and free all around us has always given me a sense of calm. This feeling only increased after moving to Europe and seeing a huge variety of flowers that I had not seen growing up. Since wildflowers have always given me so much joy, it was only natural for me to express and immortalise them through my paintings. I wish to spread that joy to my readers through this book."
She added that she hoped that her book would "bring out the creative side in everyone". She elaborated: "I truly believe that anyone can paint. You don't need a formal art education to paint. You don't need to worry too much about all the theories and rules. Just take your brush and start creating! I have simplified the process of painting flowers into easy steps so that anyone can follow along. [...] I also hope this book encourages people to go out, observe the little joys in nature, especially all the wildflowers that are around us but are often ignored."
The book follows on from Sushma Hegde's first publication, a German-language landscape painting tutorial book called Die Kunst der Aquarellmalerei - Landschaften (the art of painting watercolour landscapes), and has a link to self-care and art therapy. "When you dive into the book you will see that instead of starting with a pencil sketch (which is a common approach), all of the flower paintings start directly with watercolours. This approach helps loosen up and have fun, without having to worry about sketching every detail before painting. Trying to embrace imperfections (just like in nature) and enjoying spontaneity is a very important part of the book," noted Ms Hegde.
In terms of the contents of the book, Wildflower Watercolor is "an instructional guide to painting 30 different types of wildflowers and herbs". It starts by listing the watercolour supplies and different painting techniques, explains how to observe flowers and continues with step-by-step flowers, before concluding with a chapter on floral compositions and painting wild bouquets. "All the flowers included in the book are ones that I have come across over the years," confirmed Ms Hedge, adding that choosing which flowers to include was "one of the toughest tasks of the book". She first compiled a list of flowers, with the help of her social media followers. To reduce the list from the original 45+ to 30, she "tried to choose flowers of varying shapes and colours" in order to be able to "teach a variety of techniques and colour mixes, ranging from simple brush strokes to complex ones."
When asked about the choice between self-publishing and traditional publishing, Sushma Hegde explained that she opted for the "traditional publishing route because it meant I could fully focus on what I am good at, that is, teaching how to paint." She elaborated: "While I wrote the book, the rest was taken care of by the publisher with my inputs. This meant that I did not have to worry about multiple tasks, such as editing, graphic designing, proof-reading, marketing, distributing and making sure bookstores stocked the book. All of this was taken care of by professionals while I simply had to focus on painting and writing the book."