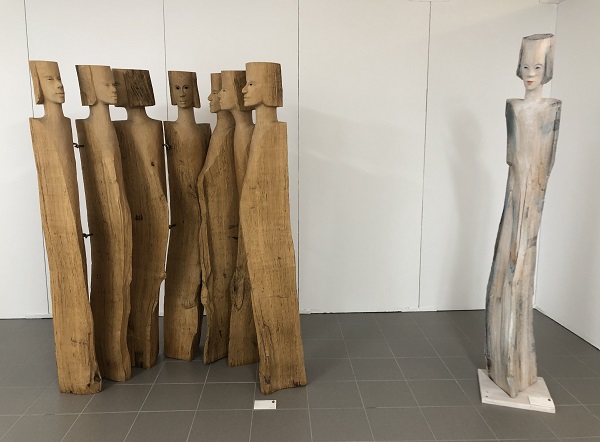 "Seven Up" by Marie-Josée Kerschen; Credit: Otilia Dragan/Chronicle.lu
On Wednesday afternoon, Chronicle.lu had the opportunity to visit the art exhibition "50 Joer Lëtzebuerger Konscht" (50 Years of Luxembourgish Art), which is currently on display at the Paul Barblé cultural centre in Strassen.
Organised in collaboration with the Lëtzebuerger Artisten Center (LAC) and with the support of Luxembourg's Ministry of Culture, the exhibition reportedly follows the "outstanding success" of the "100 Joer Lëtzebuerger Konscht" (100 Years of Luxembourgish Art) exhibition in 2021.
The exhibition started on 25 March 2023 and will run until 10 April 2023. It offers an overview of the contemporary artistic creation of the Grand Duchy of Luxembourg through 72 artists and 200 paintings, sculptures and photographs from both public and private collections. It is presented over several rooms on the ground floor and leads upstairs, with several thematic rooms along the way.
The exhibition's curators, Jean Fetz, President of the LAC, and Romain Schumann, former head of the art collection of the Spuerkeess (Banque et Caisse d'Epargne de l'Etat), chose artists who were less known by the public but whose artistic contributions led them to participate in the Venice Biennale, the São Paulo Biennale and other notable international exhibitions.
On Wednesday 29 March 2023, Chronicle.lu discovered this varied, surprising exhibition bringing together contemporary pieces – from paintings, photography, collages and posters, to mixed media and sculpture in wood and other materials.
One notable artist was Johanns Théid with "Accept", two images with frames created using a mixed technique in 1994. The first image looks blurry and depicts a character reminiscent of medieval illustrations, on a background of little circular blobs. The other is similar, but has a green circle at its core, with the word "MOVE" inside. The mud-like and organic appearance of the frames blending in with the images renders his work original and surprising.

Another notable exhibit was "The Deciders" by Lutgen Berthe. It is a painting in acrylic and oil paint dating from 2015 and it poignantly represents the power in numbers of major Luxembourg-based companies and their man-to-woman ratio.
An art book of over 300 pages completes the exhibition, though it only contains a part of the expansive offer displayed at the Paul Barblé cultural centre. The book contains presentations of the exhibited artists, texts by gallery owner and curator Paul Bertemes on the history of Luxembourg art, art critic Lucien Kayser on couples in art, art historian and former director of the MUDAM Enrico Lunghi on Luxembourg's participation in the Venice Biennale as well as Claudine Hemmer and Lisa Baldelli of the Ministry of Culture on the latter's art collection.

The exhibition is open to the public and free of charge.