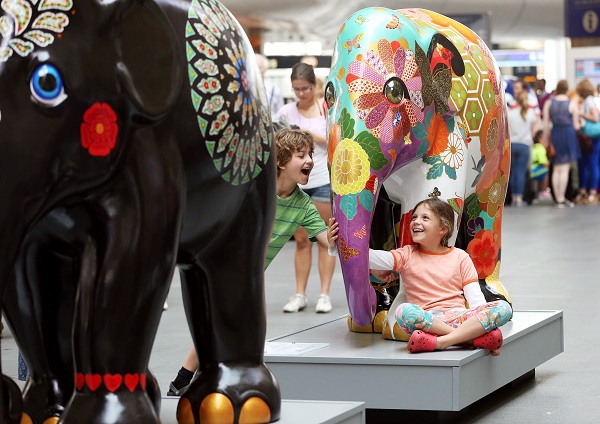 From 1 to 29 April 2023, the Cloche d'Or shopping centre in Luxembourg-Gasperich will host the "Elephant Parade", the largest international art exhibition of decorated elephant statues.
The shopping centre will exhibit 26 elephant statues decorated by artists and celebrities from around the world during the month of April.
Founded in 2006, the Elephant Parade exhibition is on a mission to inspire communities and raise awareness for Asian elephant conservation. More than 1,550 artists have contributed to the exhibition and more than 1,850 elephants have been created, each being an original work of art. Among the participating artists are Claudia Schiffer, Paul Smith, Katy Perry, Bryan Adams, Romero Britto, Phil Collins, Tommy Hilfiger, Ricky Gervais, Alex Jones, Mika and many others.
Customers and visitors to the Cloche d'Or shopping centre can discover these original, colourful statues along an intuitive route. Families, schools, households, businesses and organisations will have the opportunity to take part in organised activities, such as an intuitive tour of the exhibition, a competition and a drawing workshop. Also on the agenda is a live artistic show by Luxembourg artist Samuel Levy, who will create the "Cloche d'Or elephant" live on Saturday 15 April 2023.
Customers can also purchase limited edition handcrafted replicas, a book on Mosha or elephants to decorate as part of workshops at the Ernster bookstore.
Raphaël Bouchet, Director of the Cloche d'Or shopping centre, said: "Cloche d'Or is very proud to exclusively host the Elephant Parade 2023 exhibition in Luxembourg and to support the defence and conservation of Asian elephants. This exhibition is part of the DNA of Cloche d'Or: a real place of cultural, lifestyle and solidarity life."
René de Wit, CEO of Elephant Parade, added: "Traditionally, our most loyal fans are based in Luxembourg. We are therefore very proud to once again exhibit our colourful works of art in Luxembourg and to be able to pass on the mission of Elephant Parade to this generation and the following ones."