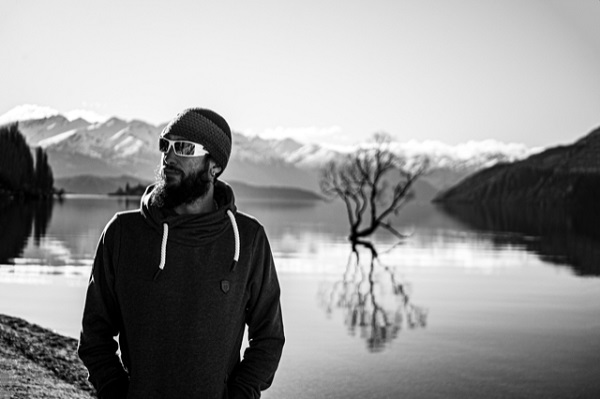 Benny J; Credit: Benny J Artist
Benny J, a local banker-turned-artist living with a rare disease, recently launched his own creative business in Luxembourg: Benny J Artist.
Benny J, an Australian who has lived full-time in the Grand Duchy since 2019, was born with Nail Patella Syndrome, a rare genetic disease that causes deformities in the bones, joints and nails. The disease meant frequent hospital and doctor visits from a young age.
Over the years, despite his disability, Benny J worked in a variety of jobs, from driving buses in Sydney to managing an Irish pub in Trier and, more recently, working in corporate banking in Luxembourg. However, he noticed that his chronic pain was getting worse with age. And so, last year, when he was no longer employed, Benny J weighed up his options: apply for a disability pension or become self-employed. He opted for the latter.
Speaking to Chronicle.lu, Benny J explained that he decided to become independent with the goal of supporting himself financially as well as eventually being able to "give back to the community" (for example recruiting staff for future events from the disabled community). The idea then was to build a business (based on his corporate experience) around his creativity and his rare disease story, thus earning a living whilst raising awareness.
On Thursday 2 February 2023, Benny J officially launched his new art career at a "Surviving Life" pilot event held at MUNNFTSE's "Green Office" at the Work Rest Play (WRP) coworking space in Luxembourg-Ville. About 50 people attended this launch event, including people from within and outside the artist's own networks (medical professionals and fellow patients, banking professionals, writers and stand-up comedians, etc.). "There was a lovely mix," noted Benny J, who expressed his gratitude for all the support he has received so far.
At this inaugural event, Benny J presented and sold some of his high-value limited edition artworks and performed poetry and music. The success of this first event helped convince Benny J of the feasibility of his business idea and he is now planning to open a permanent exhibition as well as run regular events.
In the long term, Benny J hopes to open his own art gallery; he is looking for an affordable permanent space that could be used as a studio/workshop, an exhibition space (display) and a performance area. In the meantime, he can count on the "amazing support" of the WRP coworking space.
As Rare Disease Day (28 February) approaches, Benny J is also working with ALAN - Maladies Rares Luxembourg to raise awareness. One of his goals in this context is to encourage other men to talk about their disease and their mental health.