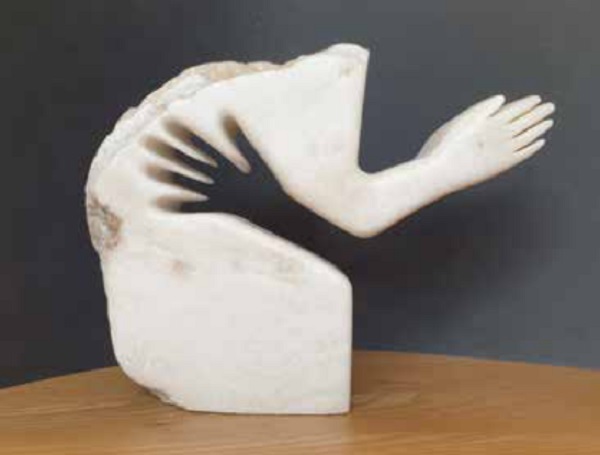 Sculpting Schengen Award 2022 winner;
The Valentiny Foundation in Remerschen has announced that Liv Jeitz Wampach with her work entitled "Sans Titre" for which she will receive a prize of €5,000.
According to the jury, "Liv Jeitz Wampach's work Sans Titre convinces through the naturalness of the aesthetics. The clarity of form and concept form a harmonious ensemble. In terms of craftsmanship, Liv shows that she is not afraid of the material of the alabaster stone, which she pushes to its limits. The result is a sculpture that thrives on the tension between power and fragility, an effect that is reinforced by the concept. Depending on the point of view and background, the viewer is confronted with the absence or the existence of a solidary hug - compassion, support, loneliness and uncertainty underlie the work. What remains is the state of permanent change and the revelation of the fragility of the moment".
She went to school in Born, Wasserbilling and Echternach before attending the Ecole de musique in Echternach from 2012-15 (cello, jazz dance).
The prize was offered for the first time by the Valentiny Foundation in cooperation with the municipality of Schengen and the Kunsthilfe Salzburg and aims to promote young artists with a connection to Luxembourg.
2nd place went to Thierry Hahn for his work "Ohne Titel" (€3,000); 3rd place went to Alex Mille for his "Synergy of Solidarity" (€2,000); a Special Mention went to the Artist collective Jimmmjefs for their work "D'Solidaritéit" - by classes C2-C4 in Beaufort primary school in an art workshop.

The award ceremony is being held on 24 February 2023 at 18:00 at the Valentiny Foundation in Remerschen, following which the exhibition will be formally opened and the winning projects will be exhibited for one month. In addition, all applications to the award will be on display in poster form.
For further details, see https://www.valentiny-foundation.com/sculpting-schengen-award