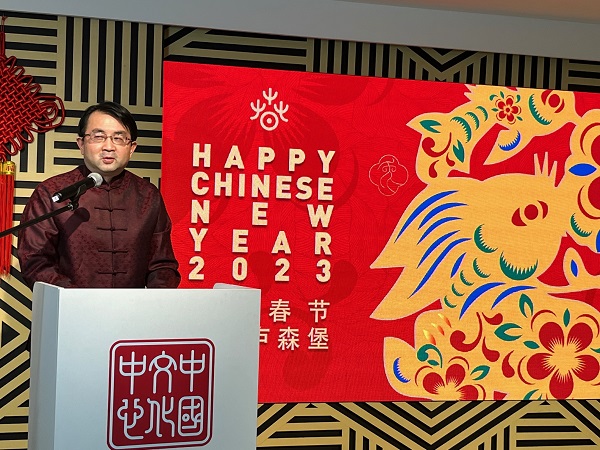 China's Ambassador to Luxembourg, Hua Ning; Credit: Chronicle.lu
On Friday 13 January 2023, the China Cultural Centre Luxembourg held an event to launch the 2023 Chinese New Year Celebration in Luxembourg and to open the Chinese New Year Paintings Exhibition.
The China Cultural Centre Luxembourg (CCCL) had been officially opened in November after two years of works on the building on Bld Joseph II in Luxembourg-ville.
The Chinese New Year officially begins on 22 January 2023, and ends on 1 February.
Jing Zhang, Director of the CCCL, welcomed the eighty or so attendees, explaining that the Chinese New Year was time for people to say thanks, with this event launching a series of events including collaboration with the Chinese chamber of commerce in Luxembourg and the Confucius Centre at the University of Luxembourg.
He confirmed that, on 22 January, the CCCL will open its house to businesses and will host a concert. He explained that this is an opportunity for people to embrace Chinese culture, including paintings exhibited in both physical and digital formats. In doing so, he referred to China's rich tangible cultural heritage.
China's Ambassador to Luxembourg, Hua Ning, also speaking in English, stated he was delighted to open the series of Chinese cultural events around the time of the Chinese New Year. He referred to Luxembourg's multiculturalism and referenced China's 5,000+ residents across the Grand Duchy who contribute to it. He referred to the past few years of health restrictions meaning that Chinese nationals could not travel to meet each other at this time of year, for family reunions. He mentioned that Chinese nationals are now both travelling domestically as well as abroad, initially mainly to Thailand and neighbouring countries. He mentioned about the plans of the CCCL to invite Chinese artists to Luxembourg and is looking forward to the cultural programme to be announced. He talked about the new Chinese year being the Year of the Rabbit which he revealed should be good for real estate, among other things. He also referred to the past 50 years of diplomatic relations between China and Luxembourg.
The official speeches were followed by the screening of a short documentary film depicting various Chinese art and culture, including the tradition of creating and hanging New Year Pictures, intended to scare demons aways from homes. They originate from the Han dynasty, around 2,000 years ago. When paper became available, this tradition spread rapidly, supported by (wood) block printing processes. These traditions are being preserved by a list of tangible cultural heritage assets in China, leading to a revival in this ancient tradition to become a living legacy.
Attendees could then view the Chinese New Year Picture exhibition, some examples of which have been produced using this traditional technique, followed by a cocktail reception.