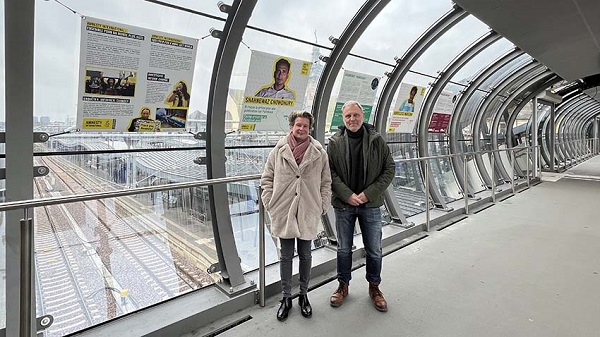 (L-R): Alessandra Nonnweiler (CFL), Olivier Pirot (Amnesty International Luxembourg); Credit: Amnesty International Luxembourg
Amnesty International is displaying information panels about the 13 people for whom the international movement is mobilising during the "Write for Rights" campaign in an exhibition at Luxembourg station.
The exhibition is on view until 27 January 2023 and is accessible free-of-charge along the footbridge which connects the Gare and Bonnevoie districts. In total there are 26 canvasses which present the descriptions both the situations and invitations to make a concrete commitment for these people.
Each year around International Human Rights Day, on 10 December, Write for Rights supporters around the world send millions of letters, emails, tweets, Facebook posts and postcards to those whose human rights are threatened, or to the authorities and governments who are guilty of these violations. It is the largest global event in the field of human rights. For the year 2021 alone, 4.5 million letters, signatures and other actions have been collected.
"This is part of our mission, to raise awareness of human rights among the general public and particularly in the public space. We are therefore grateful to the CFL, Luxembourg National Railway Company, for providing us with this highly visible space to raise awareness of the destinies of the people supported as part of the Write for Rights campaign," said Olivier Pirot, Director of Amnesty International Luxembourg. "Through this annual campaign implemented by the movement at the global level since 2001, we also want to give everyone the opportunity to concretely weigh in on human rights violations by helping to restore victims' lives... A pen is enough to write a letter to the authorities and governments that are guilty of these violations or a solidarity card to people whose rights are violated. It is also possible to easily sign petitions in favour of these people on our website write4rights.amnesty.lu."
This year, the campaign highlights the cases of a Hong Kong lawyer jailed for encouraging people to light candles to commemorate the Tiananmen crackdown, an Iranian man jailed and tortured for peacefully protesting inequality and political repression, held in solitary confinement for over two years, and three Zimbabwean activists who were abducted, beaten, sexually assaulted and imprisoned for their activism.
The exhibition also shows that these millions of letters really have an impact. Among the people whose lives have been changed by this campaign are, for example, Germain Rukuki, a former Burundian prisoner of conscience, sentenced to 32 years in prison for his work in the defense of human rights, and who, following the global mobilisation during Write for Rights 2020, was released after four years in prison. Germain recently came to Luxembourg to testify about this victory during a public meeting.

The 13 people featured at Write for Rights 2022:
• Chow Hang-tung, a lawyer from Hong Kong who is currently serving a 22-month prison sentence for encouraging people on social media to light candles to commemorate the Tiananmen crackdown;
• Vahid Afkari, sentenced to decades in prison and 74 lashes for participating in protests against inequality and political repression in Iran, and whose family has been repeatedly targeted for seeking truth and justice;
• Zimbabwean activists Joanah Mamombe, Netsai Marova and Cecillia Chimbiri, abducted, beaten, sexually assaulted and imprisoned for protesting, then charged with allegedly lying about what happened to them;
• Shahnewaz Chowdhury, who is facing jail in Bangladesh for writing a Facebook post raising concerns about the negative impact a new power plant might have on the environment;
• Dorgelesse Nguessan, hairdresser in Cameroon, sentenced to five years in prison after participating in her very first demonstration;
• Luis Manuel Otero Alcántara, sentenced to five years in a maximum security prison in Cuba for broadcasting a video in which he said he was going to take part in a demonstration;
• Zineb Redouane, an 80-year-old woman victim of the use of a tear gas canister in France. Police officers were using tear gas to disperse a protest in the street outside her apartment building when a police officer fired a tear gas canister in her direction. The projectile hit her in the face and she succumbed to her injuries. No one has been charged or suspended for this tragic death;
• Nasser Zefzafi, who is currently serving a 20-year prison sentence in Morocco for his participation in a peaceful protest movement demanding better health care, education and employment in his region;
• Yren Rotela and Mariana Sepúlveda, two transgender women from Paraguay whom the authorities prevent from officially changing their names and who denounce the multiple attacks against the LGBTIQA+ community;
• Alexandra Skotchilenko, from Russia, who faces up to 10 years in prison for denouncing Russia's invasion of Ukraine through small labels stuck on consumer products in a supermarket.